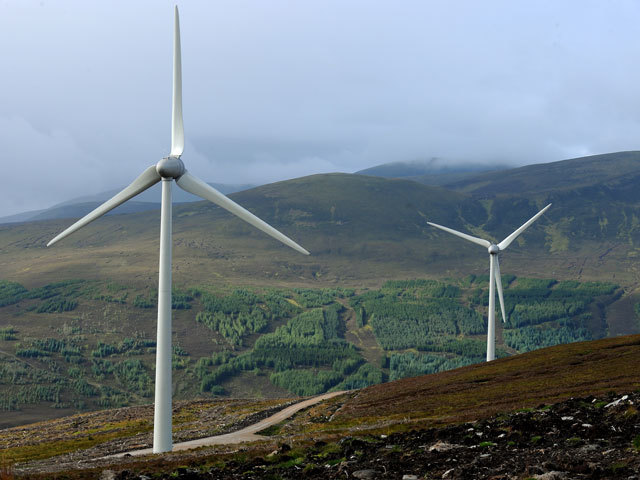 A Highland Conservative MSP has been branded a "hypocrite" for trying to make millions of pounds out of a windfarm on his 3,500-acre estate.
The SNP and the Scottish Green Party rounded on Jamie McGrigor who owns Ardchonnel Farm, near Loch Awe in Argyll, where plans to erect 15 turbines were rejected this week.
The Tory environment spokesman stood to earn more than £8million if the 364ft structures went up – despite his party's deep opposition to what it describes as an "out-of-control" policy on an unreliable power source.
Last night he accused opponents of opportunism and said appropriately-sited turbines had a role to play in energy generation.
Argyll and Bute Council planners threw out the plans, lodged by a firm called RWE Innogy, after residents of the nearby village of Dalavich argued the scheme would have an adverse visual impact.
The MSP, formally known as Sir James Angus Rhoderick McGrigor, 6th Baronet, had argued that the turbines would form part of the scenery, that tourism would not be affected and that the income would help sustain the estate for generations to come.
Caithness, Sutherland and Ross SNP MSP Rob Gibson said: "The Tories have tried to undermine Scotland's wind energy industry at every opportunity.
"So it is the height of hypocrisy for Jamie McGrigor to be happy to try to rake in money from windfarms on his own land while his party opposes them elsewhere."
Green MSP Alison Johnstone, a member of Holyrood's economy and energy committee, was also critical of the Highland and islands Tory MSP whose colleague Alex Fergusson, former parliament presiding officer, also has turbines on his land.
"Leaving aside whether this was the right site for a windfarm, it's surprising that a member of a political party so opposed to wind energy doesn't appear to have a problem with using such developments to enrich his business," she added.
Mr McGrigor, who has been a MSP since 1999, hit back at the criticism.
"This accusation of hypocrisy sounds to me like sheer opportunism on behalf of the SNP and Greens and I am surprised that they should take this attitude," he added.
"I entered negotiations with RWE npower several years ago.
"Our Scottish Conservative policy is for mixed energy solutions, including onshore wind turbines that are appropriately sited.
"We are certainly not against renewables and I think I have been consistent in my approach."
Recommended for you

Sunak bows to pressure from Tory backbenchers to allow new onshore wind