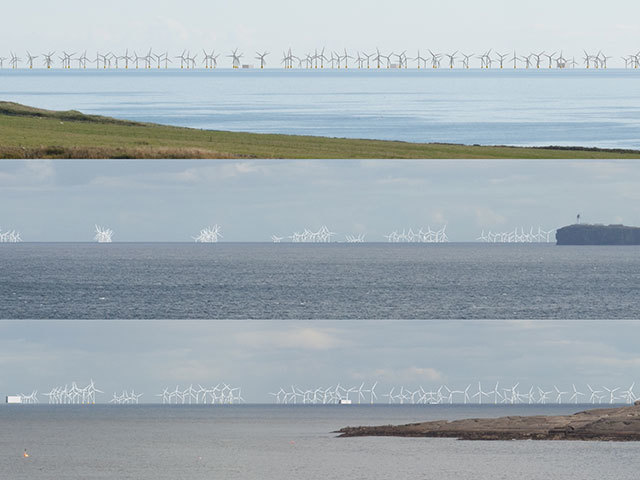 Plans to create a £300million underground power line through Aberdeenshire as part of an offshore windfarm project were unveiled by developers yesterday.
The 30-mile cable, which will run from the Banff coast to the heart of the Buchan countryside, will feed electricity from hundreds of turbines in the outer Moray Firth.
Construction of the link, which would be buried just over 3ft below ground, is expected to create about 600 jobs.
Yesterday, Moray Offshore Renewables Ltd (MORL), the consortium behind the project, revealed its latest "search area" for the cable, which showed it would begin somewhere between Whitehills and Banff.
The plans went on display at a public consultation event at New Deer.
Sessions continue today at Banff's Fife Lodge Hotel and tomorrow at Portsoy's Station Hotel.
Feedback from residents during this week's presentations will be used to narrow-down the search area and create a more precise route.
A planning application is likely to be submitted later this summer.
A trench will be dug to accommodate the cable, which will run to land to the south-west of New Deer.
It will go under at least three main roads, including the busy A947 Banff-Aberdeen route. Two new electricity substations will be built at the end of the corridor.
MORL spokesman, Craig Milroy, said yesterday's session had been well attended.
"There's certainly been a brisk interest," he said.
"People seem to have a good understanding of what the project is about and they've been asking about our timescales and about creating economic opportunities for the area."
He said questions had already been raised by some landowners about possible compensation for running the cable under their ground.
MORL, which comprises EDP Renewables and Repsol, was given Scottish Government consent earlier this year to site up to 339 turbines off the coast of Caithness.
If approved, work could begin next year, with the first electricity being generated by 2016.
Recommended for you

Onshore planning application lodged for floating wind farm off Peterhead