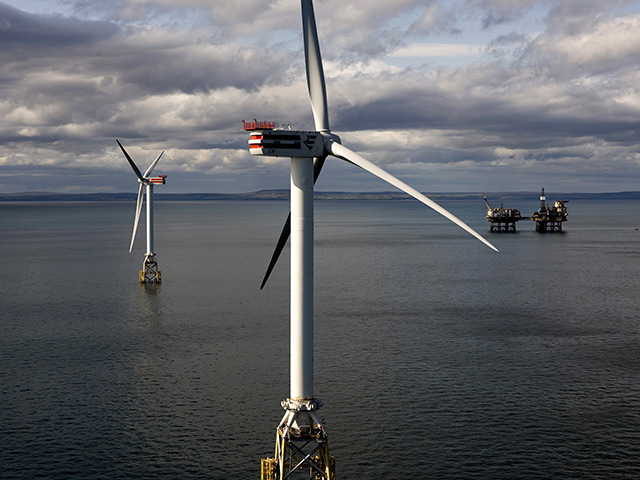 Offshore windfarm developers have unveiled the proposed route of a £300million power line which they want to bury under rural Aberdeenshire.
The 30-mile cable will feed electricity to the National Grid from hundreds of turbines in the outer Moray Firth.
Construction of the link, which will run from the Banff coast to the heart of the Buchan countryside, is expected to create about 600 jobs.
Now Moray Offshore Renewables Ltd (MORL), the consortium behind the project, has tabled its planning application with Aberdeenshire Council.
The proposal shows where a trench will be dug to accommodate the cable. A map of the area shows it will come ashore on the coastline between Banff and Whitehills and cross three main roads, including the A947 Banff-Aberdeen route.
The corridor will run through Alvah and Balchers to Upper Mains of Asleid, south west of New Deer. Two electricity sub-stations will be built at the end of the link.
Project leaders came up with the finalised route after a public consultation exercise, which involved informal discussions with local landowners.
Farmer James Norrie, who owns Cairnhill Farm which is in the path of the proposed scheme, said he attended MORL's presentation at Old Deer last month and was "surprised" to see his land on the map.
He said he wanted to begin negotiations with the company about possible compensation.
"This is the first I knew it was happening," he said.
"I'm not against the plan, but we will need to have a talk about it."
He said he had already been approached by two solicitors' firms willing to represent him in future talks.
Earlier this year, the Scottish Government granted consent to MORL for up to 339 turbines off the coast of Caithness.
An original plan to connect the windfarm with a purpose-built plant at Peterhead Power Station was ruled out in favour of the Banff-New Deer scheme.
If approved, construction could begin early next year with the first electricity being generated by 2016.