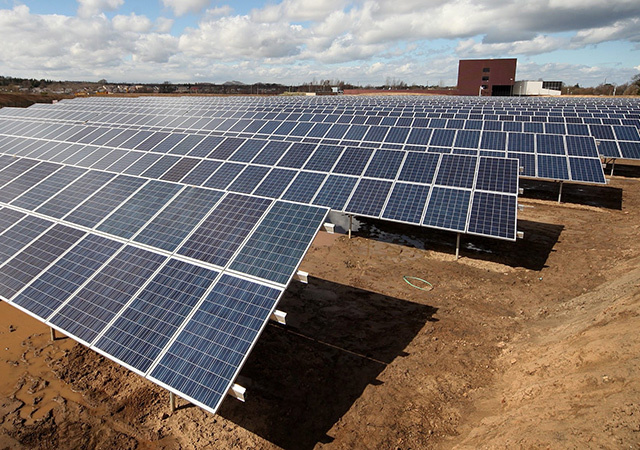 Myanmar will expand its sources of clean energy through an agreement with ACO Investment Group, a US-based private-equity fund focusing on Asian emerging markets, to develop two solar-energy plants.
The project, consisting of two 150MW solar facilities, is valued at $480million, according to a release from the Office of the US Trade Representative. The plants are expected to account for 10% to 12% of Myanmar's power generation when completed in 2016, the release said.
The undertaking comes as the country begins to put a policy structure in place to encourage renewable energy.
ACO co-founder Hari Achuthan, a former Credit Suisse Group AG banker, said last year that the fund is betting $700million on Myanmar as the country offers investors the best growth opportunity in Southeast Asia.
In July 2012, the US dropped economic sanctions against Myanmar after President Thein Sein began a democratic process that elected opposition leader Aung San Suu Kyi to parliament after 15 years of house arrest.
ACO expects the solar project to create 400 construction jobs in Myingyan and Meiktila districts, where the two plants are expected to be located.
An additional 100 permanent jobs will be created from the project, which will be managed by Convalt Energy, a portfolio company owned by ACO.
US Trade Representative Michael Froman was scheduled to lead a signing ceremony today for the agreement, which is between ACO and the Burma Ministry of Electric Power.
US President Barack Obama is deepening US trade and investment ties with Asia-Pacific nations and is encouraging the building of infrastructure necessary for the emerging countries to grow, according to a June 4 speech made by US Commerce Secretary Penny Pritzker.
"Efforts like these support the ambitious definition of development that is at the heart of President Obama's trade agenda," Froman said in the release.
The US Foreign Commercial Service has expanded its footprint in Asia by opening new offices in Wuhan in China, and Rangoon in Burma – also known as Yangon in Myanmar – to promote partnerships in the region, according to Pritzker's speech.
Asia-Pacific will be an engine of global growth in the next decade, The region's nations will import nearly $10trillion of goods and services by 2022, nearly 2.5 times today's level, Pritzker said.
ACO's project is the first-ever solar energy development in the Mandalay region. It will help Myanmar provide stable energy because the country depends heavily on hydropower, which decreases in output during the dry season, the release said.
In May, the Asian Development Bank announced a plan to bring power to 25 off-grid villages in the country through a $2million grant project to expand clean energy use.
Myanmar, the Southeast Asian nation that exited 50 years of military rule in 2011, signed a foreign investment bill in 2012 to woo overseas corporations into spending more in the former army-run nation.
Companies scouting opportunities in Myanmar or signing development agreements include Best Western International, the world's second-largest closely held hotel chain; Coca-Cola, Unilever and Visa.
Recommended for you

TotalEnergies and Chevron exit Myanmar as violence escalates