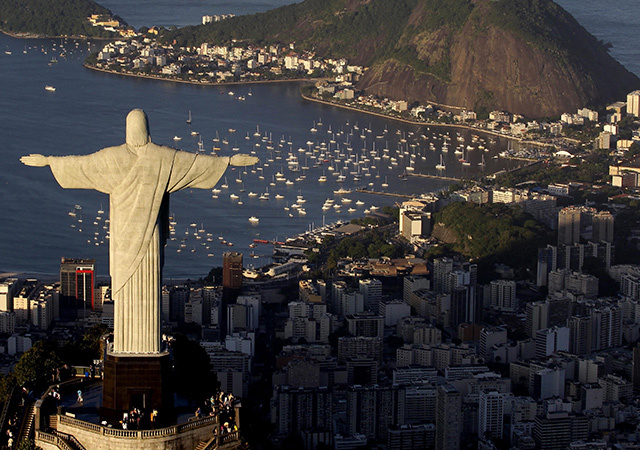 Brazil's energy regulator Aneel has set the highest price for wind and solar power at an energy auction this month.
Regulators set a ceiling price and developers bid down the cost they are willing to deliver electricity at, with the lowest winning long-term contracts to sell power.
Aneel has set it a ceiling price of 262 real ($106.6) while regulators also set a ceiling price of 144 reais a megawatt-hour for wind, and 169 reais a megawatt-hour for biogas and solid waste power.
The sale will be the first national energy auction with a specific category for photovoltaic projects.
Brazil currently gets less than 1% of its power from solar projects and is now looking to develop a domestic photovoltaic manufacturing industry.
The aim is to cut dependence on imported panels and decrease its reliance on costly thermal plants and hydroelectric dams that are subject to droughts.
At the auction at the end of the month, developers will compete for 20-year contracts for power from solar plants with at least 5 megawatts of capacity.
They must go into operation by October 2017.
Brazil's development bank BNDES in July set local content rules for solar developers.
To qualify for cheap financing, they must use photovoltaic cells produced in the country, starting in 2020.
BNDES uses similar policies to promote local production of wind-turbine components.
Developers applied to sell power from 400 solar projects, with 10.79 gigawatts of capacity in the so-called reserve auction.
The Brazilian solar industry expects between 500MW and 1GW of new solar projects to win supply contracts.
Aneel director, Andre Pepitone, said: "This auction is the first incentive for the effective insertion of solar power in Brazil.
"We haven't had success in implementing solar in its distributed form, and now we can try through large scale power plants."
The move to increase solar energy in the country was made in the wake of a devastating drought which strangled Brazil's prevalent hydropower sector.
Brazil's worst drought in 50 years dramatically cut the country's hydropower output, which currently accounts for 70% of its installed capacity.
The mass dry-out has spurred the country to seek power alternatives and Brazil now expects to contract 3.5 gigawatts of solar power between this year and 2018.
The country is also looking to decrease its reliance on expensive thermal plants and hydroelectric dams that are subject to droughts.
Recommended for you

Giant deep ocean turbine trial offers hope of endless green power in Japan