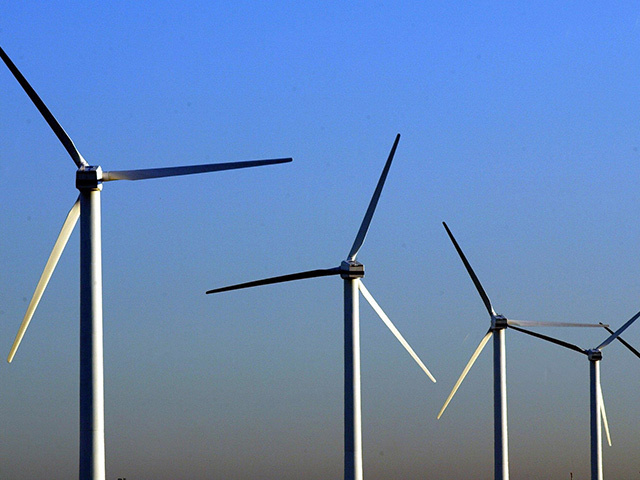 With the sunniest desert on Earth, a windswept coast and limited fossil fuel supplies, northern Chile has become the world's top market for renewable energy.
The government of President Michelle Bachelet has approved 76 solar and wind projects since taking power March 11. Renewable energy developers are pursuing contracts to deliver electricity to mines run by by companies including Anglo American Plc (AAL) and BHP Billiton Ltd (BHP), which consume a third of the country's power.
Renewable energy is now cheaper than electricity sold on Chile's spot market, and with global demand for copper expected to increase, so will the need for power at mines in the remote Atacama desert. The wind and solar projects that have been approved will require as much as $7billion to complete.
"Chile is the market with the highest level of activity in the world," Ben Warren, head of Ernst & Young LLP's renewables team.
Pattern Energy Group Lp, the closely held development unit associated with Pattern Energy Group Inc., completed in August Latin America's largest wind farm, the 115-megawatt El Arrayan project.
San Francisco-based Pattern has a contract to supply power to London-based mining company Antofagasta Plc and its Los Pelambres copper mine, perched high in the Andes Mountains about 80 miles (129 kilometers) away from the wind farm. The developer is also planning a solar farm in the Atacama region.
"Chile is our most favorite nation," Pattern Energy Chief Executive Officer Michael Garland said in an interview. "It's got a good economy, a stable political environment and it's a bit of an energy island with few indigenous energy resources."
Chile imports more than 90% of its fossil fuels and pays the highest electricity rates in Latin America. Five years of drought have depleted reservoirs at hydroelectric dams, making Chile more dependent on coal and diesel to run power plants.
"We've gone from a perfect storm to a permanent storm," said Carlos Finat, head of Acera, Chile's renewable industry power association. Electricity on the spot market costs $130 a megawatt-hour. While power-purchase agreements for solar and wind power are typically confidential, renewable energy costs less, he said, according to data from the national power regulator.
The country's renewable potential can make up for the slack in the grid, Finat said. Chile has 4,000 miles of windy coastline. It has 137 volcanoes that are being evaluated as potential sites for geothermal power plants by Italy's Enel SpA and New Zealand's Mighty River Power Ltd. And the Atacama desert is the driest and sunniest place on Earth, well-suited for solar projects.
That's spurred Bachelet to announcing a series of measures designed to alleviate the power crunch, including plans for a third liquefied natural gas terminal to import fuel from US shale fields. Chile already has a law in place that requires industrial energy users including mining companies to procure 20% of their power from renewable sources by 2025.
Mining companies including Anglo, BHP and the state-owned Codelco are considering investing more than $100billion in a new generation of copper mines, and must ensure reliable energy supplies.
"Codelco considers renewables fundamentally important," the company said in an e-mailed response to questions. Wind and solar will "allow the entry of new installed capacity amid scarcity of new generation projects, they reduce greenhouse gas emissions and they help the national energy grid depend less on petroleum, coal and LNG."
Solarpack Corp. Tecnologica began operating in September a 25-megawatt solar project that will supply the Collahuasi copper mine owned by Anglo American and Glencore Plc.
SunEdison Inc. completed in June the 100-megawatt Amanecer project, the largest in the Atacama, to supply iron ore mines owned by Cap SA. The St Peters, Missouri-based company may spend as much as $1billion on photovoltaic projects in the region. It announced Sept. 3 a contract to sell power from the 69.5 megawatt Javiera solar farm to Antofagasta's Los Pelambres copper mine.
"Despite being a small market we attracted all of the players because we have significant growth rates," Finat said. "We have clear economic rules and political stability. And there is a gigantic amount of untapped renewable energy resources."
Recommended for you

Energy bodies warn green growth at 'severe risk' without new support