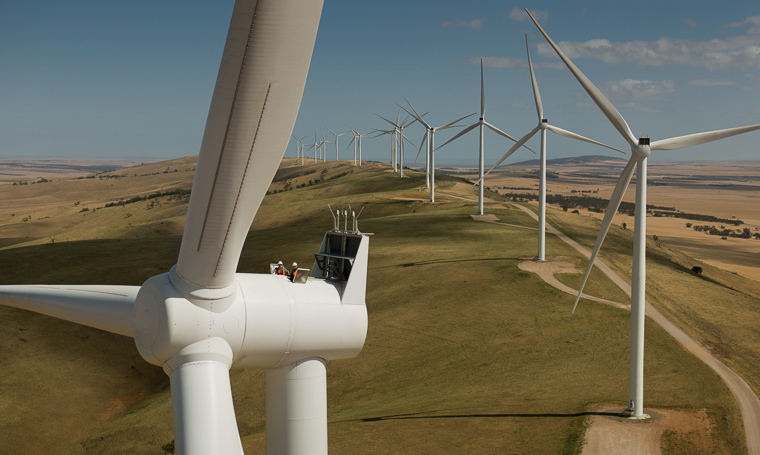 The second stage of South Australia's largest wind farm was officially launched yesterday, ahead of time and under budget.
Trustpower-owned Snowtown II consists of 90 Siemens 3.0 MW wind turbines, producing around 989 GWh per year, roughly equivalent to the power required by 180,000 homes.
Premier Jay Weatherill, Siemens Australia chief executive Jeff Connolly and Trustpower chief executive Vince Hawksworth launched the wind farm at a community event.
"It's good for the economy, good for the environment and, importantly, good for the local community. Snowtown Stage 2 demonstrates what can be achieved when combining German technology with South Australian know-how and New Zealand investment," Siemens chief executive Jeff Connolly said.
The turbines are located north and south of the original Snowtown project, which consists of 47 Suzlon 2.1 MW turbines. That project has been in operation since 2008, producing 345 GWh per year.
Trustpower chief executive Vince Hawksworth said that the project represented a major step towards a sustainable future.
"Climate change is an issue affecting the lives of everybody. Those of us lucky to live on either side of the Tasman Sea have become increasingly aware of that, and the impact it can potentially have on our lives and our country's economies if we don't all play a part in changing our ways," Hawksworth said.
"This project is another great step in the transformation to a sustainable electricity generation environment, and Trustpower is proud to be investing in that."
Siemens brand ambassador Cadel Evans, professional racing cyclist and winner of the Tour de France, led a community ride of Snowtown residents to the wind farm.
The project has been marked by strong community cooperation. Local landowners who have the turbines installed on their property receive alternative income and can continue to graze the land, while other businesses have been able to hire extra staff for the duration of the project.
Local supply and services contracts in excess of $75 million were awarded, including fabrication of 20 towers by Whyalla engineering firm E&A Contractors and civil and electrical installation works by Civil and Technical Constructions and Consolidated Power Projects.
Premier Jay Weatherill said the wind turbines are an important part of the state's renewable future.
"This plant confirms South Australia's commitment to being the nation's leader when it comes to providing efficient renewable wind energy programs. It is a key platform in our plan for renewable energy to supply 50 per cent of the state's annual power by 2025," Weatherill said.
Clean Energy Council Acting Chief Executive Kane Thornton congratulated the state for its investment in renewables, but warned against wider uncertainty in the sector due to a lack of clarity on the Federal Government's position on renewable energy.
"Analysis by Bloomberg New Energy Finance shows that Australia is having its worst year for clean energy investment in more than a decade. This investment freeze is likely to continue while the Federal Government's review of the policy is creating so much uncertainty across the sector," Thornton said.
"The South Australian Government has recognised the many benefits that renewable energy can bring to the local economy, and its support has been extremely important for the continued development of wind power in the state," Thornton said.
"Along with the billions of dollars in investment and economic activity wind power has generated in the state, renewable energy has been a remarkable success story for South Australia."
The wind farm is situated in the Barunga and Hummocks Ranges, 150 kilometres north of Adelaide. It is the second largest wind farm in Australia.
Recommended for you

BP advertises collaboration openings on Scottish offshore wind farm