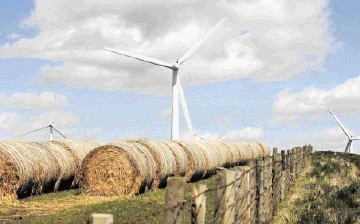 Figures have revealed windfarm companies have submitted almost 200 planning bids for major developments in the past 18 months.
The Freedom of Information statistics show the level of applications for windfarms of more than three turbines, with rural local authorities bearing the brunt of submissions.
The data compiled also revealed the Western Isles received the most applications for windfarms in that time period, followed by Dumfries and Galloway and Highland.
As well as applications for large developments, there were also 1178 requests for smaller scale wind projects – working out at nearly three a day.
Planning bids lodged for major developments include the controversial Talladh-a-Bheithe project in Perth and Kinross; a 26-turbine application at Strathy near Thurso; and the Crystal Rigg windfarm in the Borders, with turbines hitting 135 metres.
Scottish Conservative energy spokesman Murdo Fraser said: "These figures show the stream of windfarm applications to Scotland's rural councils shows no sign of easing.
"The SNP's ludicrous targets and constant rhetoric on wind energy has given these companies the green light to submit application after application.
"It puts a massive strain on council planning departments, which in turn causes anxiety to those in communities whose surroundings would be severely impaired.
"Onshore wind has a place as part of a balanced energy approach, but the Scottish Government has placed far too much emphasis on them."