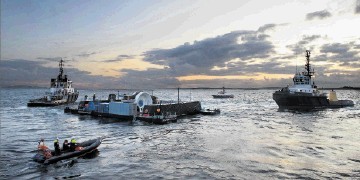 A report has been published on the performance of subsea cabling in high energy environments to support the development of commercial wave and tide energy sites.
The aim of the analysis, by the European Marine Energy Centre (EMEC) and The Crown Estate, is to improve the industry's understanding of how best to specify and manage subsea cables.
Tests were done by investigation how the cables installed at EMEC test sites in Orkney have been performing since installation.
The study found that the sub-sea cables installed at the EMEC test sites appear to be in extremely good condition considering the environment in which they are deployed.
Matthew Finn, senior business development manager, said: "EMEC has built up a colossal amount of data since we set up the test centre 12 years ago.
"As well as supporting our own operations, and those of our developer clients, we're delighted to see our data put to use across other projects that will support the development of the nascent marine renewables industry.
"The strong tidal conditions at our tidal test site – up to 8 knots at peak tide – provide a unique opportunity for people looking to test components, equipment, devices and supporting infrastructure in real sea conditions.
"We want our infrastructure to be put to good use, and would like to see the cables utilised in supporting other technology testing and demonstration projects in the future as well."
The report concluded that in sites with high tidal flow, the greatest risk to subsea cables is the effect of cable strumming – vibration caused by the flow of water past the cable.
Some of the key recommendations to developers of wave and tidal energy projects include carrying out calculations to assess risk of strumming at an early stage and completing detailed site surveys.
Recommended for you

CIP proposes building North Sea 'hydrogen island' by 2030