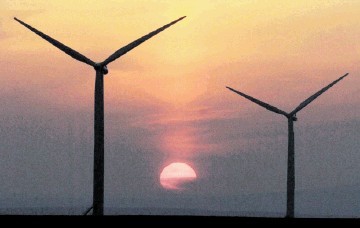 A row broke out last night after a survey showed that the majority of people living in the north and north-east of Scotland support wind power.
The industry claimed the results shot down the "vocal minority" of objectors who claim that most Scots are opposed to giant turbines dotting the countryside.
But anti-windfarm campaigners said the findings had to be "taken with a bucket of salt" as they did not separate those who are "adversely affected", mainly people living in rural areas and communities targeted by wind developers.
The online survey carried out by YouGov found that seven in 10 (71%) of Scottish adults supported the continued development of wind power as part of the energy mix, up seven points on 2013.
Support in north-east Scotland stood at 73%, the same as two years ago. In the Highlands and Islands 66% voiced their approval, up eight points on 2013.
The poll of 1,008 people over two days in February was carried out for the green industry body, Scottish Renewables.
Joss Blamire, senior policy manager at Scottish Renewables, said: "These poll results highlight once again that not only do the vast majority of Scots support wind power, but the number who do is actually increasing.
"In the Highlands and Islands the number of people backing the wind energy sector has risen by eight percentage points to 66% since 2013, while in the north-east it has remained static at 73%, two points higher than the national average.
"The capacity of Scotland's onshore wind sector has actually risen by a fifth in the same period, and these figures demonstrate that while a vocal minority of objectors claim Scots don't like wind power, it seems the opposite is actually true."
Highland anti-windfarm campaigner Lyndsey Ward, of Kiltarlity, accused Scottish Renewables of "desperately trying to prop up an increasingly unpopular industry against a tsunami of negative press from engineers, economists and health experts".
"These results should be taken with a giant bucket of salt," she said.
"The opinions which really matter on this are those of the rural people who are adversely affected. They are the people who's lives are threatened and who have taken the time to research the efficiency and economic viability of wind."
Linda Holt, of Scotland Against Spin, said: "How does Scottish Renewables explain the fact that almost no turbine or windfarm application in Scotland commands majority support in the local communities which are supposed to benefit from it?"
Recommended for you

Video: Aberdonians voice opinions on future of oil and gas