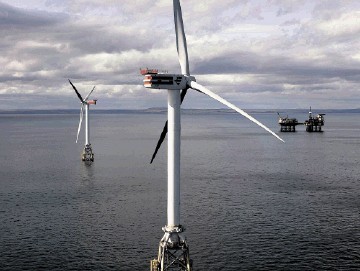 Councillors are being asked to relax a planning restriction surrounding a massive 186-turbine offshore windfarm.
Moray Offshore Renewables Ltd (MORL) won planning permission from the Scottish Government to construct 186 turbines 14 miles from the Caithness coast last year.
Members of Aberdeenshire Council then approved two electricity substations near New Deer to support the scheme.
Approval was granted on the condition that MORL provided council officers with information on how 20 miles of underground cabling would impact on roads and the environment.
The company agreed to a condition that the detail on the cables, which will transport power to the National Grid, was required before construction began.
Now, the green energy firm has appealed to Aberdeenshire's full council to be allowed to provide this information after the stations are built.
MORL believe doing so will allow the turbines to be connected to the grid by 2016.
It will also allow the Moray-based company to speak to locals to help determine a route for the cable.
Stephen Archer, the council's head of infrastructure services, has urged councillors to support the appeal.
In his report, to be discussed at Thursday's meeting of the full council, Mr Archer says that not allowing the firm more time to define a route would mean that the project would not be completed by next year.
"This involves site investigations, further environmental surveys, discussions with landowners and detailed offshore and onshore engineering investigations at the landfall to determine the optimum location for the cables and the detailed mitigation measures required for the route," he said.
"Given the volume of work required to survey and define the 33-kilometre long cable route, there is not enough time available to carry out these tasks prior to the early 2016 deadline.
"The applicant therefore requires to split the condition into a 'cable phase' and a 'substation phase' to allow them to resolve the matters required for the substation and commence work within the aforementioned deadlines, while the longer, more intensive cable route surveys and assessment continue to be carried out."
The cable will come ashore at Inverboyndie Bay, near Banff.
Recommended for you

MSP asks Jackie Bird to intervene in Aberdeenshire wind farm dispute