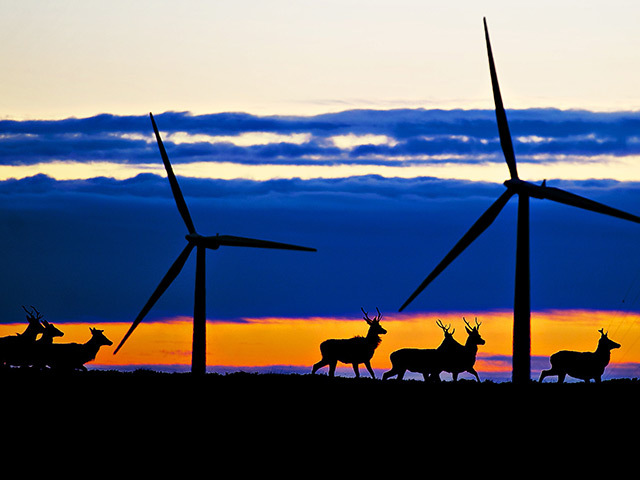 The UK Government's decision to end subsidy payments for onshore wind farms a year early could face a challenge in the courts.
Scottish Energy Minister Fergus Ewing warned that scrapping the "renewables obligation" scheme could result in legal action being taken by the green energy sector.
He accused the Conservative Government at Westminster of having "ignored the concerns" of businesses, as he said the move could cause "huge uncertainty" for investors.
Mr Ewing said: "Therefore we have warned the UK Government that the decision, which appears irrational, may well be the subject of a judicial review."
The Energy Minister insisted: "The decision by the UK Government to end the renewables obligation next year is deeply regrettable and will have a disproportionate impact on Scotland as around 70% of onshore wind projects in the UK planning system are here."
He hit out after the UK Government announced it would be ending new subsidies for onshore wind farms by closing the existing payments schemes a year early – a move which industry body Scottish Renewables said could put up to £3 billion of investment at risk.
The Tories had made ending the scheme a general election pledge, arguing wind farms "often fail to win public support and are unable by themselves to provide the firm capacity that a stable energy system requires".
UK Energy Secretary Amber Rudd said the payments had been "deployed very successfully", but added that "there comes a point where we have to say 'that is sufficient for now"'.
Ms Rudd told BBC Radio Scotland's Good Morning Scotland programme: "It has been a success story in Scotland, it has been a success story in all the UK. It's been so successful we have reached what we think is the right amount to deploy.
"Don't forget these subsidies are paid for by UK bill-payers, it's an issue of managing the costs to billpayers. We think this is the right amount to reach."
She added: "We always said we wanted a mix of renewable energy, we think this is the right level to adjust that mix to ensure we don't have any onshore wind, in terms of wind farms, on the scale that we have been having them.
"We're continuing to support off shore wind and solar up to a point but we really hope we will soon approach a level where most of these technologies will be subsidy free, because that has to be the goal, it can't be endless subsidy to the industry."
The UK Government minister added that any legal challenge to the decision would be "most unwelcome", but stated: "We'll cross that bridge when we come to it."
But Mr Ewing said: "The UK Government has ignored the concerns of businesses and organisations who are integral to the future energy security of both Scotland and the UK, as well as to environmental organisations who recognise the importance of renewable energy in helping reduce emissions.
"The UK Government have chosen to place at risk a huge investment pipeline, conceived in good faith by developers based on statements from the UK Government.
"The decision will cause huge uncertainty for investors not just in onshore but across the renewables sector as a whole.
"The decision will prevent onshore schemes proceeding whilst offshore wind will go ahead despite receiving far more generous subsidies. This, the industry claim, will lead to extra costs for consumers of possibly around £2-3 billion; and must be irrational in that respect."
Scottish Renewables chief executive Niall Stuart warned that the decision would be "bad for jobs, bad for investment" and could "hinder Scotland and the UK's efforts to meet binding climate change targets".
Mr Stuart said: "Scottish Renewables completely rejects the UK Government's rationale for cutting support for onshore wind.
"We believe this decision could put around two gigawatts of onshore wind projects in Scotland at risk. These are projects that could provide the equivalent electricity demand of 1.23 million Scottish homes and significantly improve our energy security, while bringing around £3 billion of investment.
"A recent report by the UK Government estimated that there are 5,400 jobs in the onshore wind sector in Scotland, and many of these could now be at risk. Early closure of the renewables obligation will also serve to damage investor confidence, not only in the onshore wind industry, but in the wider UK energy sector."
Meanwhile Lang Banks, the director of the environmental campaign group WWF Scotland said: "This decision risks undermining the development of the cheapest form of renewables in the country, and is bad news for Scotland's clean energy ambitions.
"Cutting support early for the lowest cost renewable technology is a backward step that will either see bills rise or climate targets missed."
He added: "Opinion polls consistently show onshore wind to be one of the most popular forms of electricity, generating thousands of jobs across Scotland and helping to cut our carbon emissions.
"We urge the UK Government to rethink its plans to end early its support for onshore wind."
Green MSP Patrick Harvie, a member of Holyrood's Economy, Energy and Tourism Committee, also hit out, saying: "The Conservative Government is far too willing to appease the irrational climate deniers on its backbenches, and this can be the only rationale for pulling the plug on the renewable energy industry.
"To do so while committing to decades of funding for nuclear energy, giving the green light to new fossil fuel extraction and dragging their feet on demand management shows that their energy policy is stuck in the 20th century and failing to grasp the challenges and opportunities facing us today."
Greenpeace UK energy and climate campaigner Daisy Sands said: "Ministers have just moved to raise everyone's energy bills by blocking the cheapest form of clean power, whilst continuing to back the impossibly expensive Hinkley C and going 'all out' for unpopular, risky, and unproven fracking.
"Even if this omnishambles of an energy policy survives the many legal challenges threatened against it, it will send a clear message to international investors that the UK Government is willing to wreck our power sector to please their most ideological backbenchers.
"This mistake will cost the UK dearly."