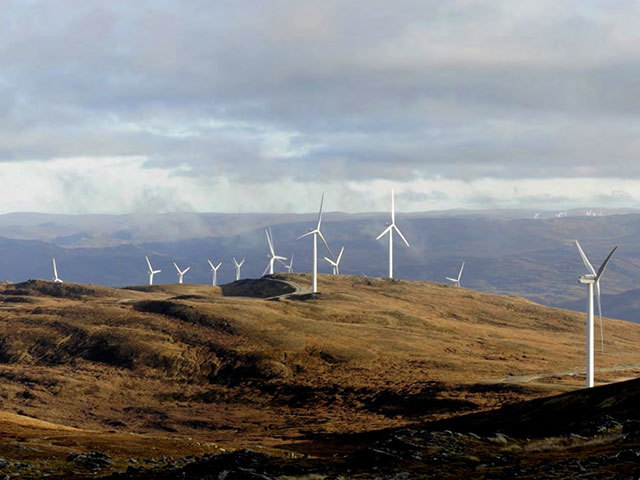 Confidence in the UK's onshore wind sector has been further hit by hints that Westminster may remove the technology from the Government's new competitive auction process, a renewables body has warned.
Niall Stuart, chief executive of trade body Scottish Renewables, said wind being blocked from the Contracts for Difference (CFD) scheme "would result in a massive and dramatic decline in development".
Scottish Renewables revealed that, when asked whether onshore wind projects could access the new CFD auction, UK Energy Secretary Amber Rudd had told the House of Commons: "In respect of contracts for difference, we would be implementing the terms of our manifesto".
This announcement came less than a week after Ms Rudd announced the early closure of the Renewables Obligation scheme, imperilling 250 onshore wind projects.
Speaking at his organisation's Onshore Wind Conference in Edinburgh yesterday, Mr Stuart said: "Yesterday's announcement serves to further undermine the confidence of Scotland's onshore wind industry.
"The UK Government has stated that early closure of the Renewables Obligation will stop some 250 projects dead in their tracks across the UK, but pushing onshore wind out of Contracts for Difference altogether could see development almost completely grind to a halt.
"Together these steps would result in a massive and dramatic decline in development, and the jobs and investments that go along with this.
"Given the incredibly fragile mood in the renewables sector it is now vital that the Secretary of State provides the industry with clarity on the UK Government's intentions."
At the same conference, Energy Minister Fergus Ewing said that the future of community and locally owned energy projects in Scotland, which currently contribute £2.2billion to the local economy, were "under threat".
Mr Ewing, who made the keynote address at the conference, said:
"We are well on our way to achieving our target by 2020 which has the potential value to our communities and local businesses of up to £2.2billion.
"Onshore wind is our most successful technology for community benefits, and it has the potential to transform local areas through community ownership. Giving communities more control over their own energy will help us tackle challenges like grid constraints and fuel poverty – while at the same time sparking economic revival.
"On the Isle of Lewis we have the largest community-owned wind farm in the UK at 9MW. This will generate around £1million each year for the local community who will decide how to spend that money.
"However, potentially the future of projects like this could be under threat as a result of the recent announcements by the UK Government, and it will be tragic if these opportunities are lost to future communities.
"I will continue to discuss with the UK Government ways that commercial schemes with shared community ownership can be encouraged under all support schemes and in the meantime, the Scottish Government will use our own powers to keep up the momentum we've already built."
Recommended for you

SSE Renewables shows where next for offshore wind