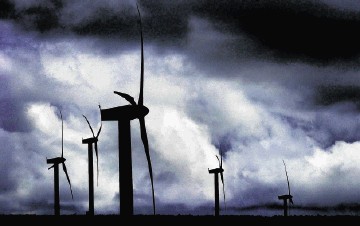 Nearly 150 Scottish windfarms may not go ahead because of the UK Government's decision to stop subsidising new schemes from next April, it was claimed yesterday.
Barbour ABI, which gathers construction industry data for clients including the government and Office for National Statistics, said 338 UK projects worth more than £6.4billion were in jeopardy.
The total includes 143 Scottish sites thought to be at risk.
Michael Dall, lead economist at Barbour ABI, said: "There are 5,000 active wind turbines already in use across the UK, producing 5% of the total amount of national electricity.
"The government has a target of 30% of UK electricity coming from renewables by 2020, and must believe that other areas of renewable-energy should be prioritised over onshore wind projects to receive future subsidies and investment before the target year."
"In 2014, the government paid out £800million in subsidies for onshore wind farm projects. It must believe the country now has enough turbines for the short and long term future."
Energy Secretary Amber Rudd recently announced that new onshore windfarms will be excluded from an existing funding scheme from April 1, 2016, which is a year earlier than expected.
All projects that already had planning permission and other similar conditions could still get built under a proposed "grace period".
The Scottish Government is targeting 100% of electricity need north of the border to be met from green-energy sources by 2020.
Figures released by the Department of Energy and Climate Change last week showed a record 49.8% of all electricity used in Scotland in 2014 was generated from renewables.
Holyrood has warned the progress Scotland is making on realising its renewables potential may be substantially hampered by the UK Government removing financial support for onshore wind.