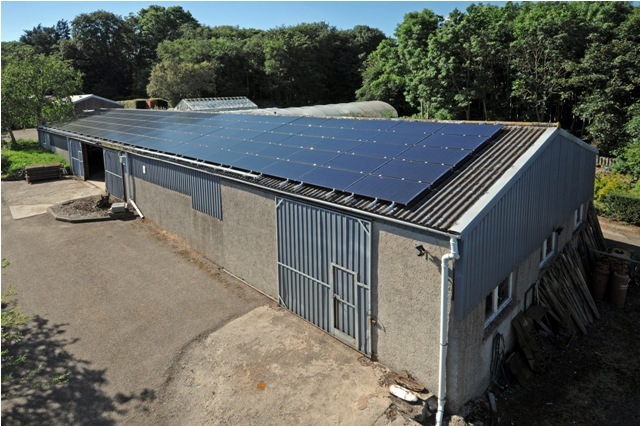 The benefits of solar power to business will be showcased today at Pitmedden Garden estate in Aberdeenshire while the UK swelters in the grip of heatwave.
The event is part of the industry's annual "solar independence day" scheme that opens a selection of UK solar-powered homes and enterprises to the public.
The National Trust for Scotland (NTS) has installed a 115 panel array on the roof of the estate's gardeners storage shed, which is generating power for the site's museum of farming life and other buildings.
Visitors to will be able to view the solar rooftop and learn how solar can cut energy bills and running costs at historic buildings.
Some 35,000 homes and 600 businesses north of the border currently draw part of their energy needs from solar technology and north-east Labour MSP Lewis Macdonald believes the UK can exploit the resource further.
Mr Macdonald, who will attend today's event, said: "I'm encouraging all concerned to take solar more seriously"
"This week's weather probably makes my case better than anything else. There's been plenty of sunshine in the north east, we just need to capture some of that as a source of energy. If we do, it can give us a better balance and a better renewable energy source, and that's why I'm supporting this event."
Brechin-based Forster Energy, which describes itself as Scotland's leading solar provider, is organising the open day at the estate, which starts at 11am.
The firm's chairman John Forster said: "Solar independence day presents a great opportunity for individuals, businesses, charities and community groups to find out more about the potential for solar.
"By attending one of our events across the UK you can see and hear firsthand how solar presents a fantastic opportunity for consumers to generate their own flexible, cheap and clean energy supply."
Mr Forster is also chairman of Scotland's branch of the STA, which was set up in March to advise the Scottish Government on energy policy and raise awareness of solar benefits nationally.
Forster Energy also ran yesterday's open day event at Cronan farm in Perthshire, where a 720 panel solar array is powering the farm's cold stores.
The Solar Trade Association's chief executive Paul Barwell, said: "It's great to see so many solar home owners and businesses get involved in solar independence day, showing how solar really gives power back to the people, allowing households and businesses to generate their own clean, green electricity.
"At more than 80% public support, solar has been shown in government opinion polls to be the country's most popular form of energy."
Recommended for you

Cults firm awarded funding to develop offshore hydrogen transfer system