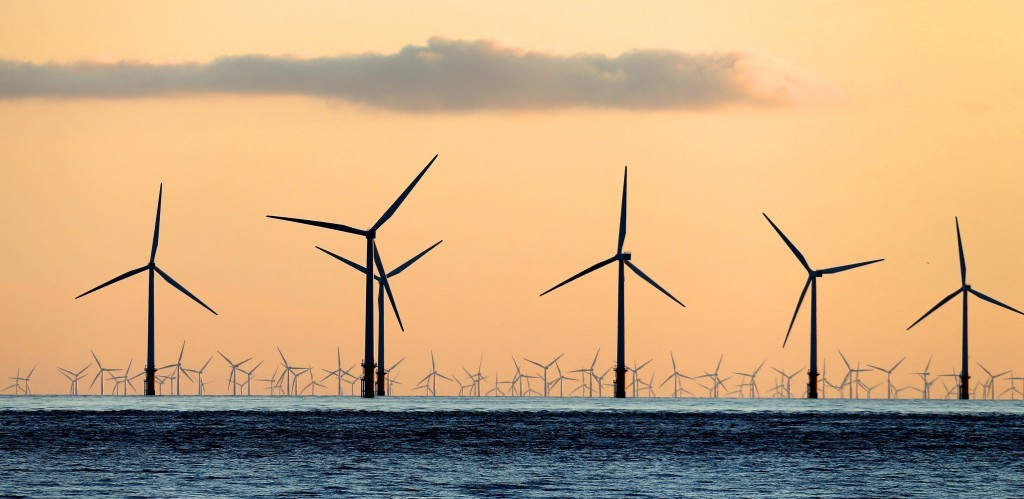 June was an "astonishing" month for wind power in Scotland as output more than doubled compared to the same period last year, according to environmentalists.
Wind turbines north of the border provided enough electricity last month to supply power equivalent to the average electrical needs of 1.7 million homes, WWF Scotland said.
In its analysis of wind and solar data provided by WeatherEnergy for June, the organisation said wind power generated the equivalent of 33% of Scotland's entire electricity needs for the month.
The data also showed wind output was enough to supply 100% or more of Scottish homes on six out of the 30 days of the month.
Sunshine generated more than four-fifths of the electricity and hot water needs of homes fitted with solar panel, WWF Scotland added.
Director Lang Banks said: "While much of the attention may have been focused on the welcome summer sunshine, June also turned out to be an astonishing month for wind power in Scotland.
"Thanks to a combination of increased capacity and stronger winds, output from turbines more than doubled compared to the same period last year.
"These figures show just how much wind power has gone from strength to strength. However, wind power in Scotland could and should be playing an even bigger role in helping to reduce climate emissions from the power sector."
He added that he hoped the Scottish Government's onshore wind summit taking place on Thursday can find ways "to help ensure this clean energy source can meet its true potential."
Karen Robinson, of WeatherEnergy, said: "While good for generating power from the sun, the summer months often see a dip in the output from wind turbines. And, while output was certainly lower than the month of May, this June saw a massive jump in output when compared to last year.
"While the data confirms Scotland is knocking out of the park on wind power, it also confirms it's no slouch when it comes to solar power too."
Last month Energy Secretary Amber Rudd unveiled proposals to close the existing subsidies payment schemes a year early for new onshore wind projects, to fulfil a Conservation election manifesto promise.
SNP MSP Mike Mackenzie said the figures released today showed Scotland had a "real opportunity to be a world leader on renewable energy".
"This excellent progress must not be put at risk by the reckless approach of a Tory government with scant regard for Scotland's interests," he added.
Mr Mackenzie said: "These outstanding new figures are a welcome demonstration of the strength of Scotland's renewables industry, with a 120% boost on the previous year's figure showing the incredible strides Scotland is making in producing clean, sustainable energy – and showing the vital role green energy can play in meeting our energy needs.
"This is exactly why the UK Government's decision to cut onshore wind subsidies funded through the Renewables Obligation is so dangerous – which could see a loss of investment of up to £3 billion, put more than 5,000 jobs at risk and put at risk the excellent progress Scotland has made on renewables in recent years.
Recommended for you

Sanjoy Sen: Next PM should ensure Britain can withstand future energy shocks