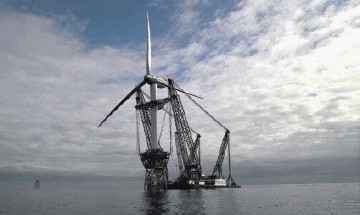 A new 870 megawatt offshore windfarm is planned for the north Irish Sea
Oriel Windfarm and Gaelectric Holdings have signed a memorandum of understanding to co-develop the project which has the potential to produce up to 870 MW of wind energy.
The North Irish Sea Array (NISA) will be the first major offshore renewable energy project to be developed in the Irish Sea since the construction of the Arklow Bank Wind Farm by GE in 2001.
Ireland has one of the largest offshore wind resources in the world. The Government believes there is potential to generate up to 10,000 MW of renewable energy from offshore wind energy.
Oriel managing director Brian Britton, said: "This project represents the biggest step forward for the Irish offshore wind energy sector in the last ten years. NISA will commence with a significant demonstration project which, by their nature, draw investment and attract collaborations with local universities and provide opportunities for local businesses. Demonstration projects in the UK, Germany and Denmark have led to the development of full scale projects, leading to the creation of many thousands of jobs in those countries."
The 15 MW NISA Demonstration Project, with an initial investment of €80million, will be a key first step towards the realisation of the much larger NISA development. The NISA Offshore Demonstration Project will see international companies use the Irish Sea as a testing ground for new innovations in offshore wind energy technology.
Gaelectric chief executive Brendan McGrath said: "Offshore wind speeds, relatively shallow water depth and favourable sea bed conditions, make the Irish Sea an ideal location for offshore wind projects and as a testing ground for offshore wind technologies. The presence of a number of established ports on the east coast of Ireland is also a factor which will help attract investment to Ireland. "
Recommended for you

OEUK boss calls on government to rebuild investor confidence