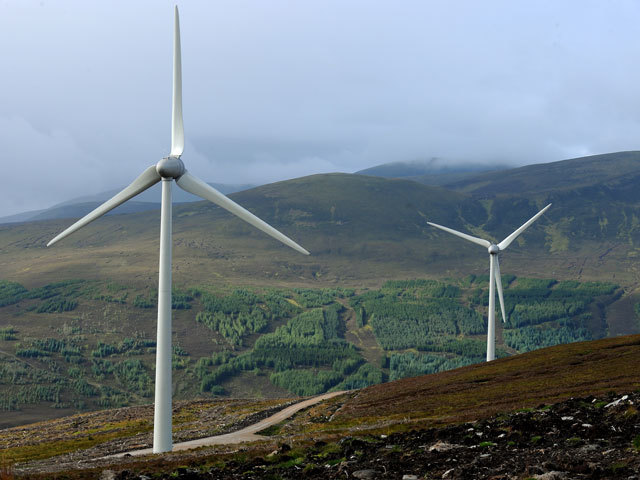 Green-energy giant Infinis suffered a near 8% slide in the value of its shares after it confirmed the chancellor's decision to scrap climate change tax breaks for renewables generators will cost it £7million by March.
In Wednesday's Budget, Chancellor George Osborne said the Climate Change Levy (CCL) exemption, which allows businesses not to pay the environmental tax levied on energy if it has come from renewable power, would be removed in August.
The move continues the UK Government's "crusade" to scale back financial support for renewables, which has not been perturbed by the approach of United Nations climate change talks in Paris later this year.
The Conservatives provoked outcry from environmentalists last month when it brought the deadline for entry onto a national subsidy scheme for new onshore wind projects forward a year.
Infinis said the CCL exemption has been a key component of renewable support since 2001 and described the step as a bolt from the blue.
The Edinburgh and London-based firm, chaired by former SSE chief executive Ian Marchant, said and all parties in the renewable industry had understood that the phase-out would not start until after 2020.
Infinis said it expects a reduction in earnings before interest, taxes, depreciation and amortization (Ebitda) of about £7million in the year ending March 31, 2016, and up to £11million the following year.
Eric Machiels, chief executive of Infinis, said the announcement was "quite without warning".
He said: "We are disappointed by the several recent changes to the regulatory framework which will disincentivise long-term investment in the build-out of new energy infrastructure in the UK.
The company, which employs 365 people across 137 operating sites, operates seven wind farms across Scotland, two of which are in the north east at Gordonstown and Hill of Fiddes.
Its operating wind portfolio has capacity of 274megawatts, and it also produces electricity from landfill gas.
Its shares closed down 7.8% to 166p.
Jenny Hogan, director of policy at Scottish Renewables, called for the government to clarify how it intends to fund the transition to a low-carbon economy and meet its binding climate change targets.
She added: "While the decision to remove the CCL exemption for renewables was disappointing, the sector will take some comfort from the fact that much-trailed cuts to the budget for low-carbon technologies failed to materialise."
Friends of the Earth Scotland director Richard Dixon accused the chancellor of supporting companies "intent on creating climate chaos" while "undermining clean energy".
Mr Dixon also said Scotland will "feel the pain" of the "anti-wind farm crusade" more than any other part of the UK.
About 70% of onshore wind projects in the UK planning system are to be built north of the border.
"The UK Government needs to rethink its strategy if it is to have any hope of meeting future UK climate and energy targets," he added.
But John Constable, director of Renewable Energy Foundation, a UK charity that has been a long-term critic of subsidies, said the measure was highly significant as it represents the first retrospective cut to subsidies.
He said: "When the issue of cuts has been raised before now, for example, to onshore wind subsidies, they have only affected new projects. This cut affects every single renewable generator already operating and all future ones, as well.
"It's an indication of the direction of travel that retrospective cuts are now on the table."
Recommended for you

BP and partner paying £900m for entry into UK offshore wind market