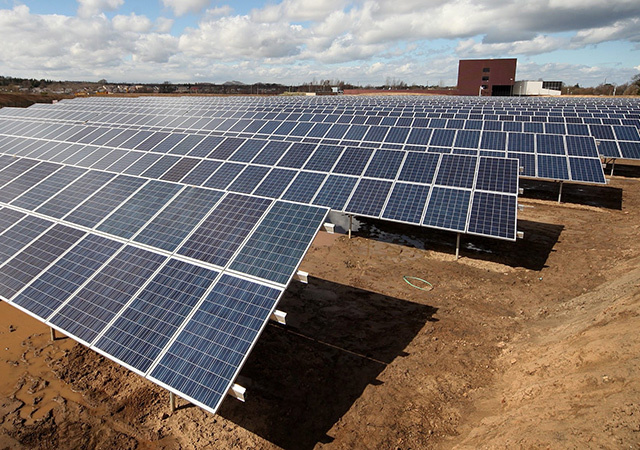 Solar energy subsidies will be cut under plans set out by Energy Secretary Amber Rudd which she claimed would reduce household bills.
The Department of Energy and Climate Change (DECC) is consulting on plans that would see subsidies for some small-scale new solar farms close by 2016.
Ms Rudd said the renewable energy industry could not be given a "blank cheque" and the level of subsidies should be reduced because of a fall in the cost of delivering solar power.
She launched a consultation proposing the early closure of the renewables obligation (RO) scheme for new solar projects generating less than five megawatts from April 2016.
Ms Rudd told BBC Radio 4's Today programme: "I'm not ruling out further subsidy for the solar industry. What we are doing today is introducing measures to limit that subsidy.
"We can't have a situation where industry has a blank cheque and that cheque is paid for by people's bills.
"I'm going to ensure that people's bills are kept down in terms of this extra subsidy for renewable energy."
The solar subsidies add around £3 to bills, she said: "It all adds up doesn't it? It's £3 for solar then it comes to other sources as well. I'm going to make sure that those sums don't keep adding up on to people's bills."
She added: "Bills having additional costs to them is never going to be painless. I welcome wholesale prices coming down, and bills coming down, but nevertheless we can't have a system which we have had up to now where there is basically unlimited headroom for new renewables, including solar.
"Solar has been a great British success story and we will continue to support solar, but on a different level, on a capped level, so that I continue to look after bill payers' interests as well. It's getting that balance right."
Recommended for you

UK energy bills set to peak above £500 as Russia cuts gas