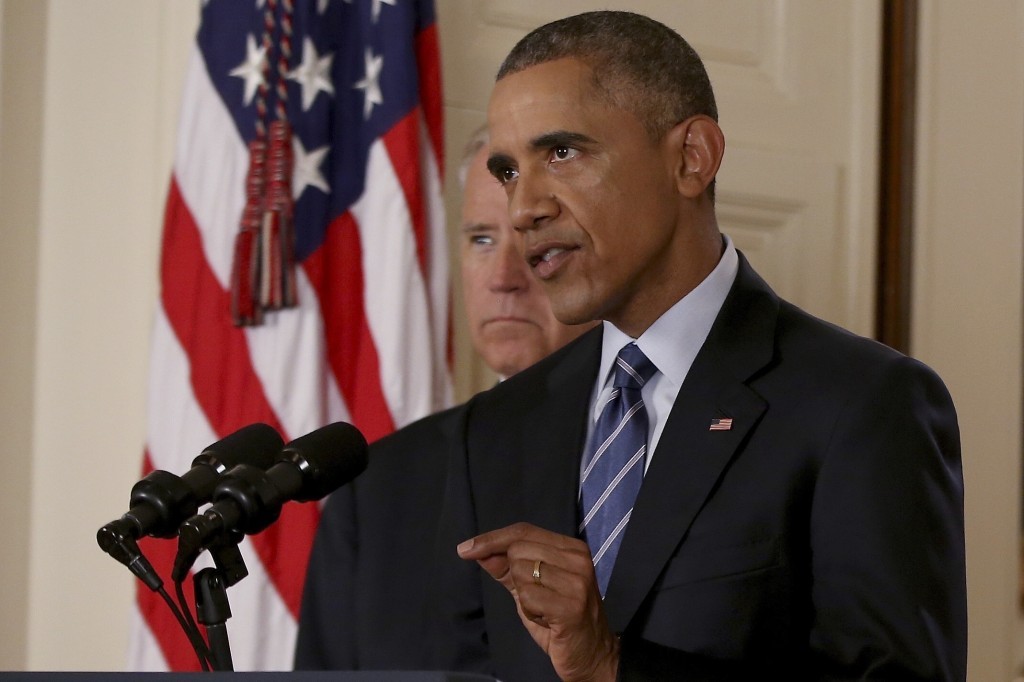 Submerged countries, abandoned cities and floods of refugees await the world barring urgent action on climate change, President Barack Obama warned, painting a doomsday scenario as he began a visit to Alaska.
In a bid to further his environmental legacy, Mr Obama brought the power of the presidential pulpit to Anchorage and called on other nations to take swift action as negotiations for a global climate treaty near a close.
In a speech to an Arctic climate summit, the president sought to set the tone for a three-day tour of Alaska – including the first visit by a sitting president above the Arctic Circle – that will put the state's liquefying glaciers and sinking villages on graphic display.
"On this issue – of all issues -there is such a thing as being too late," Mr Obama said. "And that moment is almost upon us."
During his tour of Alaska, Mr Obama planned to hike a glacier, talk with fishermen and tape a reality TV show with survivalist Bear Grylls – all part of a highly orchestrated White House campaign to illustrate how climate change has damaged Alaska's stunning landscape.
The goal at each stop is to create powerful visuals that show real-world effects of climate change and drive home Mr Obama's message that the crisis is already occurring.
The president said that climate change left unchecked would soon trigger global conflict and "condemn our children to a planet beyond their capacity to repair".
In the Arctic, which is warming faster than any other corner of the globe, Mr Obama said melting permafrost and disintegrating sea ice risk floods, fires and unimaginable economic damage.
"It's already changing the way Alaskans live," he said.
The president has struggled to explain how his dire warnings and call to action to cut greenhouse gases square with other steps he has taken or allowed to expand energy production, including oil and gas.
Environmental groups took particular offence at the administration's move to allow expanded drilling off Alaska's north-west coast – just a few weeks before Mr Obama arrived in Alaska to preach on climate change.
Even Alaska Natives, who have echoed Mr Obama's warnings, have urged him to allow more oil and gas to be sucked out of Alaska's soil and waters.
Alaska faces a roughly 3.5 billion dollar (£2.28 billion) deficit this year as a result of falling oil prices, forcing state budget cuts that have wreaked havoc on rural services.
Mr Obama sought to portray the US as doing its part even as it develops energy resources it will need during the longer-term transition to cleaner, renewable fuels.
He set out a list of steps he has taken to cut greenhouse gas emissions and said America is doing its part.
"We're proving that there doesn't have to be a conflict between a sound environment and strong economic goals," he said.
Mr Obama's first stop after arriving in Anchorage was a listening session with Alaska Natives, who relayed concerns about crippling energy costs and uncertainty about hunting and fishing rights.
Highlighting what he described as progress for Alaska Natives on his watch, Mr Obama said he hoped to be setting a new pattern of co-operation that would extend beyond his presidency.
His tour continues today with a boat tour of Kenai Fjords National Park and a hike to Exit Glacier, a sprawling expanse of ice that is retreating amid warming temperatures.
In south-west Alaska on Wednesday, the president will meet fishermen locked in conflict with miners over plans to build a massive gold and copper mine in Bristol Bay, home to the world's largest salmon fishery.
Mr Obama will end his trip by travelling north of the Arctic Circle. In Kotzebue – population 3,153 – he plans to address the plight of Alaska Natives, who face dire economic conditions amid some of the worst effects of global warming.
The White House unveiled a new National Park Service map bearing the name Denali on the former Mount McKinley.
Before leaving Washington, Mr Obama announced that North America's tallest mountain was being renamed using its traditional Athabascan name.
The move drew applause from Alaska's leaders and harsh condemnations from Ohio politicians angry that the name of its native son, former President William McKinley, will be erased from the famed peak.