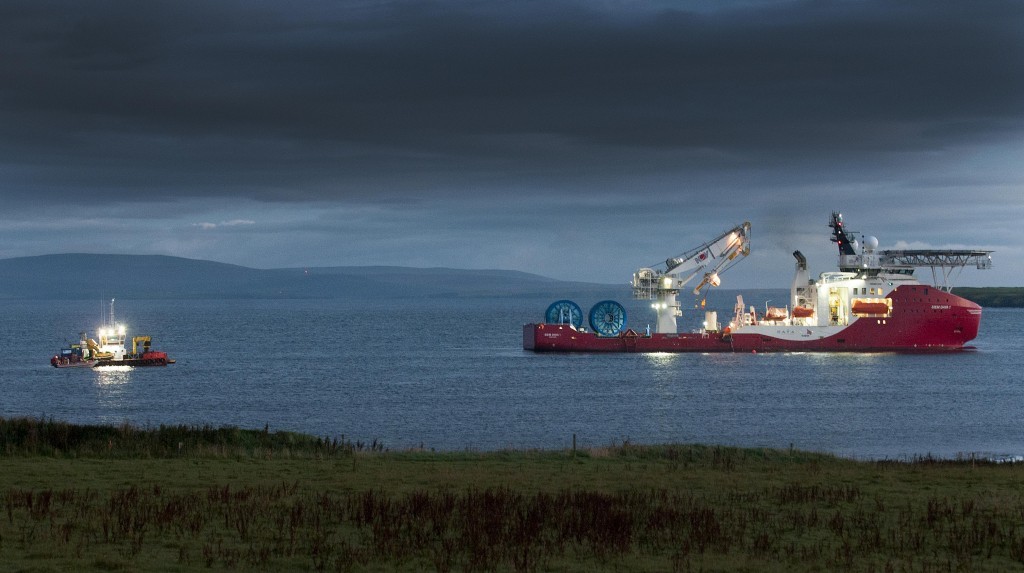 The latest phase of the Meygen tidal energy project has been completed with the laying of four subsea cables.
Meygen owner Atlantis Resources said the four cables run from the foreshore into the Inner Sound of the Pentland Firth and down to the seabed.
The cables will eventually connect with four 1.5MW tidal turbines which will be deployed next year and will be linked back to the onshore substation, from where the power will be fed into the wider grid.
Cable reels were loaded onto the vessel Siem Daya 1 in Hartlepool last week and then transported to the MeyGen site in Caithness.
Work from the vessel commenced on Monday and the team completed the cable laying works in the early hours of today, installing 11km of cable, Atlantis said.
The installation process, being carried out by James Fisher Marine, involves pulling the cable from the vessel through the bore using an onshore winch.
Once the end of the cable is secured onshore, the vessel lays the offshore end out to the turbine site along a pre-determined route.
Chief executive Tim Cornelius, said: "This is an excellent result for the project.
"By its very nature the offshore site is a challenging tidal environment, and to complete the installation campaign safely and in line with the programme is a commendable achievement by our onshore and offshore teams, aided by great performance from the vessel.
"After all the planning it is very rewarding to see the offshore infrastructure taking shape for this trail-blazing project."
Meygen is the world's
https://www.energyvoice.com/otherenergy/71395/tidal-energy-project-work-start/t
.
The project has the potential to power nearly 175,000 homes through a network of 269 turbines on the seabed at Ness of Quoys in Caithness.
Recommended for you

FPSO sailaway for BP's GTA LNG project