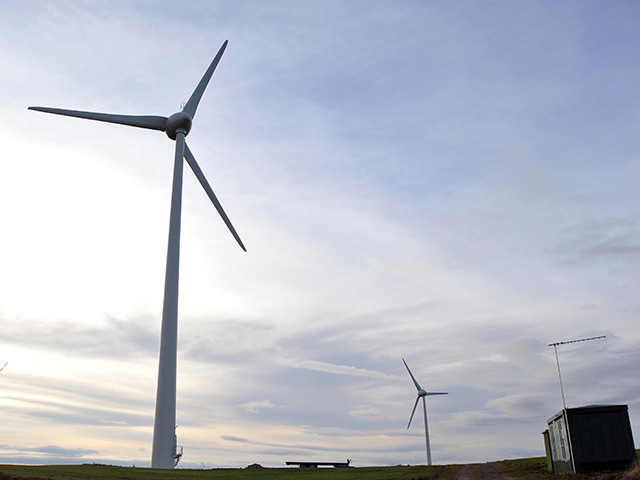 The UK saw £1.25 billion invested in wind power last year, as the industry supported more than 30,000 jobs, a report suggests.
Industry body RenewableUK's annual report found Scotland was leading on onshore wind, with 60% of projects now installed in Scotland, generating a higher turnover, some £211 million, than England, Wales and Northern Ireland combined.
More than half of the construction of onshore wind farms is taking place in Scotland and 70% of new consents for schemes are in the country, while only 25% of construction and less than 10% of consents for projects are in England.
But England is forging ahead with offshore wind, with English coastal communities such as Lowestoft, Suffolk, and Grimsby, Lincolnshire, feeling the benefits, the report revealed.
According to the report, which comes after Government moves to curb subsidies for renewables including onshore wind, the wind industry supports 30,500 jobs, including 15,500 jobs directly in the industry and 15,078 which are indirectly supported by it.
And £1.25 billion was invested into the UK because of wind energy in the past financial year, with a £402 million turnover for UK companies involved in onshore wind and £840 million spent in the UK on offshore wind.
But a survey for the report among the industry body's members found that almost three quarters (73%) felt the investment climate was less favourable than in the previous 18 months, and 42% expected to reduce investment.
Nearly 90% of companies said Government policy was less favourable to renewables, compared to less than a quarter (23%) in 2011.
RenewableUK's chief executive Maria McCaffery said: "We hope this report will serve as a wake-up call to Government, proving that the wind industry is delivering a substantial amount of clean power, investment and jobs to Britain – despite mixed messages from ministers.
"Ministers have stated that their objective is cutting carbon at the lowest cost to consumers, so it is difficult to understand why they are undermining investor confidence in the energy sector as a whole by announcing sudden unexpected changes in policy.
"This is especially true regarding onshore wind which is the lowest cost clean technology and is set to be cheaper than new gas by 2020, so it deserves to retain its place in our energy mix rather than being excluded from it."
WWF Scotland director Lang Banks said: "This report makes clear the important role that wind power plays in supporting jobs and the economy across the country.
"If Scotland and the UK are to cut carbon emissions and decarbonise the power sector, then it's vital that wind power be continued to be deployed here. However, just as critical is the urgent need to begin rolling out offshore wind in Scottish waters.
"This study underlines why we need to see continued political support for renewables both north and south of the border."