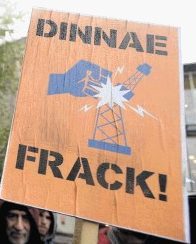 The Scottish Government has announced it has put in place a moratorium on underground coal gasification (UCG) in Scotland, following on from its existing fracking moratorium.
The move comes as ministers revealed the Scottish Government will carry out a thorough and wide-ranging research process into the potential impacts of onshore techniques.
The moratorium on onshore unconventional oil and gas was announced by the Energy Minster Fergus Ewing in January, when he set out plans for a full public consultation and outlined a programme of research work including a full public health impact assessment, further work to strengthen planning guidance and further tightening of environmental regulation.
Since then the Government has undertaken a series of meetings with the key stakeholder groups including environmental NGOs, industry, local government and community organisations.
Those meetings have prompted its decision to extend the planned work which will also now also include transport impacts research, seismic monitoring research, consideration of decommissioning and aftercare, climate change impacts research and economic impacts research.
The second moratorium comes after a report for a firm seeking to extract gas from the Firth of Forth said UCG could generate £13 billion for the UK economy.
Cluff Natural Resources wants to build the UK's first offshore UCG plant in Fife.
Environmentalists oppose the move and called on the Government to extend its temporary fracking ban to include UCG.
Mr Ewing said: "In line with our evidence-led approach we are today also putting in place a moratorium on the onshore planning of underground coal gasification developments to allow time for full and careful consideration of the potential impacts of this technology for Scotland."
While powers to award onshore unconventional licences are being devolved to Scottish Ministers, powers to award operators exclusive rights to exploit coal resources for UCG rest with the UK Government/Coal Authority and there are no live proposals to devolve these to Scotland. As a result, the moratorium on UCG will be implemented at Scottish Planning Authority level.
An independent Scientific Panel report on unconventional oil and gas which has already been undertaken.
Ministers published the planned research and public consultation timetable today and confirmed that the public consultation will begin once the research process has been finalised and the results published.
This will give the public a chance to study the research reports before taking part in the public consultation.
The detailed evidence-gathering phase will take place between now and next summer, with the consultation phase, covering engagement, public consultation and analysis, due to conclude in spring 2017.
The separate moratorium on Underground Coal Gasification (UCG) is part of what the Government said was a "cautious, evidence-based approach" will allow the necessary time for "full and careful consideration of the potential impacts of this new technology".
Ministers have been clear that these are two separate technologies, subject to different licensing regimes, and hence will be considered separately.
The Scottish Government has appointed Professor Campbell Gemmell, former chief executive of the Scottish Environmental Protection Agency, to lead an independent examination of the issues and evidence surrounding UCG. This will include working closely with communities and stakeholders to understand the issues of most concern to them.
Mr Ewing said: "The studies announced today constitute an extremely thorough and wide-ranging examination of the potential impacts of unconventional oil and gas and underlines the Scottish Government policy of taking a precautionary, robust and evidence-based approach to this technology in stark contrast to the gung-ho approach of the UK Government.
"The public will understandably wish to study the outcome of the research process and thus the public consultation will not begin until the findings of the research process have been published.
"Scotland's moratorium into onshore unconventional oil and gas extraction was welcomed by both environmental campaigners and industry representatives. It will remain in place as the research and public consultation is undertaken.
Mr Ewing said that community, environmental and health concerns should be fully taken account of, whilst remaining open-minded about the potential of new energy technologies.
The Government said that in line with its evidence-led approach, boreholes relating to unconventional oil & gas will only be permitted when research and geoscience is the key driver and where they are delivered in collaboration with an independent research body, such as the British Geological Survey, or academic institution, and for the purposes of furthering the evidence base on unconventional oil and gas.
Any proposed boreholes would also have to gain planning permission, environmental and health and safety consents before they are allowed.
The second moratorium and timetable for research into onshore unconventional oil and gas were welcomed by environmental groups.
Mary Church, head of campaigns at Friends of the Earth Scotland, said: "This framework for reviewing shale gas fracking and coalbed methane looks like a well designed process, over a sensible timescale.
"We are confident that when the evidence is independently assessed and the Scottish public have had a chance to voice their concerns, this consultation will lead to a full ban on unconventional gas and fracking.
"Underground coal gasification is a risky and experimental technique, with a very chequered history around the world. This industry clearly deserves the same public scrutiny as shale gas fracking and coal bed methane."
WWF Scotland director Lang Banks said: "The Scottish Government is to be congratulated for putting in place a moratorium on underground coal gasification.
"There is overwhelming public opinion in favour of cleaner forms of energy and a sufficient body of evidence why unconventional oil and gas are neither good for people or the planet.
"While this rightly puts a hold on underground coal gasification for now, we hope the final decision will be to rule it out completely."