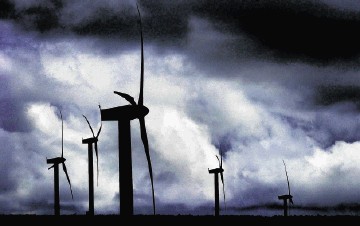 Plans for a £2.1billion windfarm which could generate thousands of jobs took a giant step forward yesterday as councillors paved the way for it to be connected to the National Grid.
The electricity transmission works will link the proposed Beatrice development eight miles off the coast of Caithness in the Moray Firth to the electricity network at Blackhillock near Keith.
The partnership formed between SSE Renewables, Repsol Nuevas Energias UK and Copenhagen Infrastructure Partners (CIP) lodged proposals for the infrastructure with Moray Council.
They were initially backed by the local authority's planning committee.
And yesterday they were unanimously at a special meeting of the full council.
They include plans for 11.5 miles of underground cable which will surface on farmland to the west of Portgordon and run inland to a new substation beside the existing Blackhillock one.
The onshore cabling will be buried at a depth of 5ft-6.5ft.
Horizontal directional drilling will be used to tunnel under watercourses, roads, the Aberdeen-Inverness railway line and the Keith-Dufftown railway line.
Council convener Allan Wright said last night: "What we did today was approve the planning application in detail.
"This broke new ground because of the nature of the application.
"The planning committee which first considered it was all councillors in this instance. It then went to full council, which was all members as well, to ratify the recommendation from the planning committee.
"That moves the whole thing forward and the developers assured us all that will be seen above ground is two man hole covers for inspection purposes."
Energy giant SSE owns 50% of the project, while CIP and Repsol Nuevas Energias UK have 25% each.
Construction will start in 2016 subject to a positive final investment decision early next year.
The developers say the 110-turbine scheme could create up to 5,000 jobs, power more than 370,000 homes, and would be serviced from Wick harbour.
SSE director of offshore renewables, Brian McFarlane, said: "The consent of our cable route marks another positive milestone in helping to deliver one of Scotland's most exciting engineering projects.
"As we approach a final investment decision early next year, we will continue to keep stakeholders informed of progress."
The Beatrice project was backed by the Scottish Government in March 2014 and granted an investment contract by the UK Government just weeks later.
The developers expect it to generate up to 664MW of renewable electricity and bring a range of socio-economic benefits to both the Moray and Highland regions, including jobs, skills training, investment in ports and harbours, opportunities for local businesses and potentially £3.3million in community benefit funding.
Mr Wright added: "The potential from this field extends further. There's all the back-up from the project, and we remain hopeful that at least some of the support work and ongoing servicing will come to Buckie.
"The community benefit fund in the region of £3.3million will be shared between Moray and the Highlands, and we are also hopeful it will be an equal share."
Recommended for you

Ocean Winds submits key paperwork for 2GW Caledonia wind project