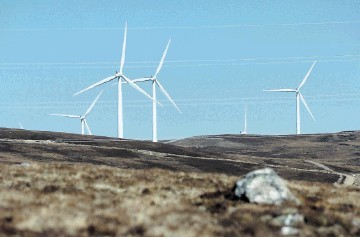 New laws could be required to ensure the Green Investment Bank continues investing in renewable projects when it is privatised, a Government minister has suggested.
Cabinet Office Minister Lord Bridges said he recognised concerns that the state-owned bank could be broken up or used to fund other non-green projects once it is privatised under Business Secretary Sajid Javid's plans.
The proposal has been controversial and Liberal Democrat peers warned there was no requirement that it continues its so far successful mission to boost renewable projects once it is sold off.
Lord Bridges conceded "it's clearly something that we need to look at" and stressed that the bank's CEO Shaun Kingsbury would be looking to ensure its specialisms continue once it is sold.
In response to a Lib Dem amendment to the Bank of England and Financial Services Bill which would empower banking regulator the Prudential Regulation Authority to ensure it carries on its green mission, Lord Bridges said: "I do take this as something, and I'm not going to prejudice what the minister in BIS is working on at this moment, it's clearly something that we need to be look at.
"I note that Mr Kingsbury himself said that he believed that the purchasers or investors in the Green Investment Bank would be looking expressly to ensure that the specialisms of the bank it currently has would continue.
"It would want to make sure that that was indeed the reason that the core of that investment and that specialism and that focus is the core of that investment.
"That said, I heed entirely what you are saying and I will draw that to the new minister's attention."
Lib Dem former minister Baroness Kramer had warned that private investors could use the bank, which was backed with an initial £3.8 billion of public money, to make money in other ways.
She called for a similar system to that used for Royal Mail when it was privatised, in which the regulator ensures it continues its mission.
Lady Kramer said: "It's clear from the discussions so far that privatisation presents a problem.
"The problem is this – that in order to completely remove the Green Investment Bank from its books as the Government intends, it cannot continue to exercise any control of that bank after it's privatised.
"It cannot require that the mission of the bank continue to be green investment.
"New owners could convert the bank to any other purpose at will after privatisation.
"Indeed it can't even require that the bank continue as a going concern.
"It would be quite possible for new owners to absorb the existing assets into other parts of its business and make the decision that as those assets were paid down it would invest in a whole
variety of other activities, it may not continue to provide a Green Investment Bank at all."
She added: "I don't think that is the wish of the Government or frankly of Parliament.
"There are real concerns that private investors might turn the bank to another purpose not because it's not successful, but because frankly there are other ways in which to make money once the assets begin to return cash."
Recommended for you

UK Government announces independent review into 2050 net zero goals