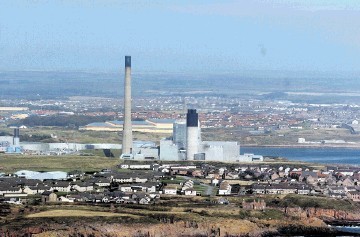 Peterhead power station in Aberdeenshire has returned to service following the completion of major upgrade work.
The work carried out at the station means it is now configured to operate in the market at loads between 240MW and 400MW, in line with its current Transmission Entry Capacity (TEC).
Paul Smith, SSE managing director for generation, said: "This is another important development for Peterhead power station, allowing it to meet the needs of the current market.
"Along with the contracts which Peterhead already holds with National Grid to help provide system security and resilience, the upgrade work means the station will continue to make an important contribution to the UK electricity system, as it has since 1980."
Peterhead currently has a contract for 2015/16 under National Grid's Supplemental Balancing Reserve (SBR) meaning 750MW of additional capacity could be called upon at any time to provide back-up over the winter period.
The station successfully provided SBR capacity during winter 2014/15. Peterhead also has a contract to provide voltage support to the electricity grid from April 2016.
SSE said it continues to fully support Shell in developing a Carbon Capture and Storage (CCS) project at Peterhead, which would see the site become the world's first commercial-scale demonstration of CCS at a gas-fired power station.
SSE currently operates two other wholly-owned gas-fired power stations at Medway, Kent (700MW) and Keadby, North Lincolnshire (735MW). SSE confirmed last week that Keadby would reopen; it will be recommissioning during November aiming to be ready for commercial operation in December.