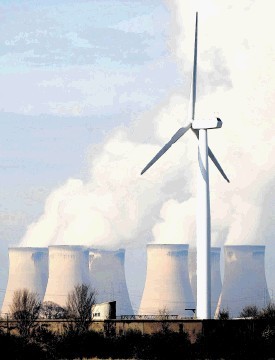 Energy and Climate Change Secretary Amber Rudd is to signal the end of polluting coal-fired power stations in the UK – but will say it is "imperative" new gas plants are built.
In a widely anticipated speech on the Government's energy policy "reset" after a series of announcements cutting support for renewables, Ms Rudd will put the emphasis on new gas and nuclear power plants to cut emissions and ensure energy security.
She will say she wants a "consumer-led, competition-focused energy system", and will claim that one of the "greatest and most cost-effective contributions" to cutting greenhouse gas emissions from the power sector is switching from coal to gas.
She will also say that nuclear power is central to an energy-secure future.
The speech comes amid concern about keeping the lights on in the UK, with National Grid having to issue a call to the industry earlier this month for more generation to be brought on to the system after a number of power plant failures left a reserve shortfall.
Concerns have also been raised about the costs to consumers of transforming the energy system to low carbon to tackle climate change.
Environmentalists have backed reports that the Government will announce coal power plants will be closed by 2023, to meet the Prime Minister's pledge to phase out the most polluting power source.
A report by Greenpeace suggests retiring all of Britain's coal-fired power stations by 2023 will avoid up to 3,800 premature deaths, lung problems for more than a million children and 1.7 million adults, and £6.7 billion in health costs between 2023 and 2030 from pollution.
But the focus on gas, a fossil fuel which is less polluting than coal but produces many times the amount of emissions as nuclear or renewables, will anger campaigners who want to see backing for cleaner energy sources.
Greenpeace's head of energy Daisy Sands said: "A government policy to move away from coal is welcome, but we also need policies ensuring a plan to make sure our polluting coal plants are replaced with the clean, renewable, flexible energy infrastructure Britain really needs.
"Launching a new dash for gas and new nuclear is not the solution as it will only lock in more dirty power than we actually need for a low-carbon transition.
"If ministers are serious about keeping bills down, creating new jobs and combating climate change, they should give their full backing to the clean technologies, like wind and solar, which are the cheapest new power sources already and are getting cheaper and more efficient every year."
The Government has insisted it needs to cut subsidies for onshore wind and solar, which it argues should no longer rely on support, in order to stop the rising cost to consumers who pay for the technologies on their bills.
But ministers have been attacked for stopping support for the cheapest low-carbon technologies while backing more expensive nuclear.
In her speech, Ms Rudd will say: "We now have an electricity system where no form of power generation, not even gas-fired power stations, can be built without government intervention, and a legacy of ageing, often unreliable plant.
"And, perversely, the dirtiest fossil fuel, coal, remains a major part of the system.
"But, frankly, it cannot be satisfactory for an advanced economy like the UK to be relying on polluting, carbon-intensive 50-year-old coal-fired power stations. Let me be clear: this is not the future."
She will also say: "One of the greatest and most cost-effective contributions we can make to emission reductions in electricity is by replacing coal-fired power stations with gas.
"Gas is central to our energy-secure future. In the next 10 years, it's imperative that we get new gas-fired power stations built."
On nuclear, she will say that the Government is dealing with a legacy of under-investment, which is now changing with plans for a new plant at Hinkley Point, Somerset, set to start generating in the mid 2020s and a new fleet of reactors planned.
The huge investment could provide up to 30% of the needed low-carbon electricity through the 2030s and create 30,000 jobs.
The speech comes ahead of international talks in Paris to secure a new deal on tackling climate change, with pressure for targets to cut global emissions to zero and phase out fossil fuels in the long term to avoid the worst impacts of climate change.
Recommended for you

Bangladesh leans to coal power as renewables face challenges