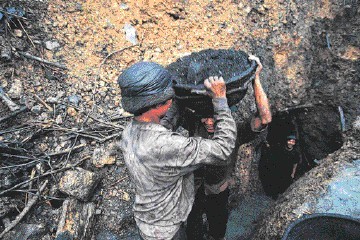 Coal's future in the world's energy mix is secure even as governments adopt stricter policies to tackle climate change, according to the head of coal and copper at Rio Tinto Group, the world's second-biggest mining company.
"Even if you take a 50-year perspective, thermal coal will continue to play a very important role in the energy equation," Jean-Sebastien Jacques said today in Sydney.
Demand from countries including India will ensure that coal continues to be used in power plants, he said.
Investors, policy makers and producers are weighing the future of coal operations and projects, including the prospect that undeveloped deposits, along with untapped reserves of oil and gas, may become stranded assets as nations take steps to reduce their greenhouse-gas emissions.
Rio this year dismantled its energy division, responsible for coal and uranium assets, in a restructuring seen by Jefferies LLC as signaling a potential exit from coal.
The producer is continuing talks to sell coal mines after it agreed in September to divest its 40% stake in the Bengalla coal venture to New Hope Corp. for $606 million, people familiar with the discussions said last month.
Australia's Newcastle coal price, an Asian benchmark, has tumbled to about $53 a metric ton since surging above $136 a ton in early 2011 as global output increased and China's demand growth weakened.
More than 130 world leaders are gathering Monday at a United Nations conference in Paris to open negotiations on a new climate change deal intended to limit warming to 2 degrees Celsius (3.6 degrees Fahrenheit).
Mining companies may face a combined $10 billion risk to their earnings if carbon pricing tightens as a result of the talks, according to UK non-profit organisation CDP.
About 80% of the coal should remain in the ground and unused before 2050 to limit temperature increases to 2 degrees Celsius, researchers at University College London said in January.
"We fully acknowledge that there is a climate-change issue and it has to be fixed," Jacques said.
"We believe that by providing the right products we can be part of the solution."
Beyond energy, coal's importance in steelmaking will also support demand, he said. "Without coal, there's no steel. That's steel for new schools, mass transport infrastructure and even renewable energy."
Looking at China and taking a 20-year view, "you still need a big chunk of coal," Jacques said. "Coal demand is not going to disappear."
Rio Tinto has coal operations in Australia's Queensland state and the Hunter Valley region in New South Wales.
Recommended for you

India can add oil and gas while it chases green goal, Modi says