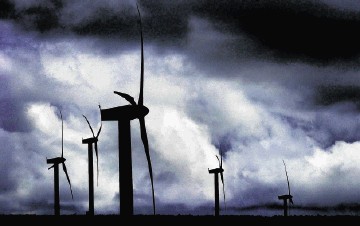 High winds that have battered Scotland this winter have pushed its turbine power output up by two-fifths – providing more than enough electricity to fuel every domestic property, an environment charity has found.
November was the second highest month for power output in 2015 surpassed only by January, WWF Scotland said.
Scottish turbines provided around 1,158,144MWh of electricity to the National Grid, enough to supply, on average, the electrical needs of 131% of Scottish households (3.2 million homes).
This represents an increase of 42% compared to November 2014.
Speaking from the climate talks in Paris, WWF Scotland's director Lang Banks said: "Thanks to a combination of increased capacity and stronger winds, output from turbines was up more than two-fifths compared to the same period last year – supplying power equivalent to the electrical needs of 3.2 million homes.
"As well as helping to power our homes and businesses, wind power is helping Scotland to avoid over a million tonnes of polluting carbon emissions every month.
"These impressive figures go to show why Scotland is absolutely right to continue to back renewables in a big way.
"I'm currently at the UN climate talks spreading the word about Scotland's world leading climate targets and the rapid progress we're making on renewables.
"I hope that news of November's renewable output will help inspire other countries to follow our lead. Doing so would help kick-start a renewables revolution that would help transform our ability to address the threat of global climate change.
"However, if Scotland wishes to continue to set an example to the world on addressing climate change then it cannot just rest on its renewable laurels.
"If we are to meet our own climate targets then we must see the same levels of commitment we've seen on progressing renewable electricity in other areas of Government policy, especially in homes, heating, and transport.
"As we approach next year's Holyrood elections, we look to all the political parties to set out policies consistent with meeting our climate change objectives."