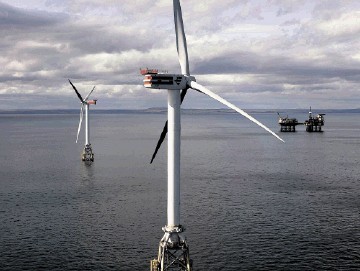 Researchers are developing software to dramatically cut maintenance costs for offshore wind turbines.
With tough North Sea conditions, a large percentage of lifetime outgoings for offshore windfarms are associated with maintenance.
The Robert Gordon University team is developing a tool which would ensure companies were able to carry out maintenance in the most efficient manner.
By inputting specific information generated by a windfarm into the tool, it would then automatically generate an optimal maintenance programme tailored to those turbines. This would minimise
costs of maintaining the windfarm and maximise the availability and reliability to ensure costs are kept as low as possible.
PhD student Yashwant Sinha said: "At present the cost of offshore wind turbine maintenance is as high as 35% of the total lifetime costs, which equates to £14 billion a year for the 150GW offshore wind turbines which are predicted to be installed in Europe by 2030."
Recommended for you

Spain's BlueFloat eyes floating wind offshore Taiwan