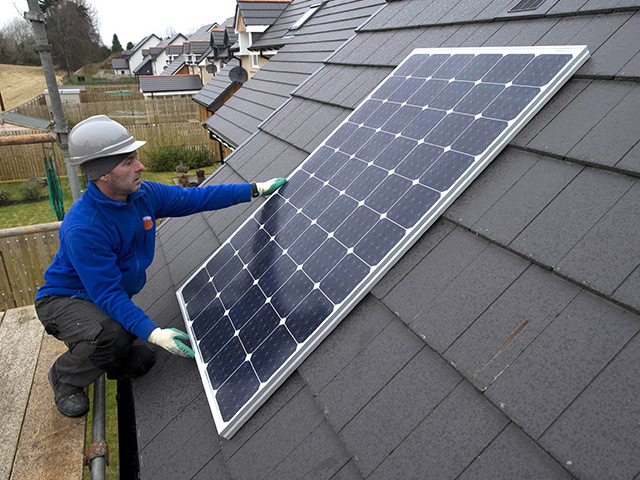 The Government has been accused of "huge, misguided cuts" to clean energy after it announced reductions of almost two-thirds to subsidies for solar panels on homes.
The move, which ministers say is necessary to curb rising costs of green energy on consumer bills, comes just days after the UK backed the world's first universal agreement to avoid dangerous climate change by bringing down greenhouse gas emissions.
Reductions in payments under the "feed-in tariff" scheme for energy generated by new small-scale renewables are not as severe as originally proposed in the summer, when ministers floated an 87% cut for domestic solar electricity compared with current levels.
Domestic solar panels will receive 4.39p per kilowatt hour of renewable electricity generated, down 64% on the 12p they would have received from January and 65% less than current levels, although more than the 1.63p originally proposed.
Opponents said the overall budget for small-scale wind, solar, hydro and anaerobic digestion projects under the feed-in tariff programme was set at £100 million until 2018, or £35 million a year.
They warned this is significantly less than the £175 million paid out to polluting diesel generation in the latest "capacity market" scheme, which provides payments to power plants to be on stand-by to start generating if needed to ensure the lights stay on.
The solar industry, which had said the cuts could cause tens of thousands of job losses, warned that the new tariffs are not high enough to support the sector, and ministers must do more to boost solar power.
Paul Barwell, chief executive of the Solar Trade Association, said: "Government has partially listened. It's not what we needed, but it's better than the original proposals, and we will continue to push for a better deal for what will inevitably be a more consolidated industry with fewer companies.
"However, in a world that has just committed to strengthened climate action in Paris and which sees solar as the future, the UK Government needs to get behind the British solar industry."
And he said: "Allocating only around 1% of its clean power budget to new solar is too little, particularly when solar is now so cost-effective. Poor ambition for solar risks missing out on not only our renewable energy targets in the UK, but on the world's greatest economic opportunity too."
The STA also said it was "very concerned" about plans to pause the feed-in tariffs scheme for four weeks before the new payments came in, which will prevent new installations getting the better subsidy rate before then but which could damage the industry further.
The highest subsidies for solar under the new rates will be for schemes of the kind of size schools would have or small commercial arrays, but even this has seen a significant cut in payments.
The Government said the new tariffs would give a rate of return of almost 5% for solar power, almost 6% for small-scale wind power schemes and more than 9% for small hydropower projects.
Friends of the Earth renewable energy campaigner Alasdair Cameron said: "Less than a week after the UK Government agreed in Paris to keep global temperatures well below two degrees, the Government has shown its true colours – and they're certainly not green.
"These huge, misguided cuts to UK solar are a massive blow for jobs and the economy, and further undermine the Government's already tarnished credibility on tackling climate change.
"Massive public opposition to the Government's original proposal may have forced ministers to modify their plans, but this is still terrible news for the UK and its small-scale renewables industry."
Greenpeace UK energy campaigner Barbara Stoll said: "Bowing to pressure from the public and leading businesses, the Government has swapped a blunt axe for a sharp scalpel, but it's still cutting in the wrong place."
She criticised the Government for cutting solar subsidies while backing nuclear power, warning that the new reactor at Hinkley Point would swallow up four years' worth of subsidies for the whole solar sector in just a month.
"Why are ministers signing a blank cheque for expensive, outdated nuclear power whilst pinching pennies for an energy source on the cusp of a massive investment boom? This makes no economic sense and will only put up bills in the long run.
"With costs falling, demand rising, and post-Paris momentum growing, the UK solar sector will see off the Government's attacks. The question is how many more jobs, investments and business opportunities are we wasting because of George Osborne's incoherent policies?"
Shadow energy and climate secretary Lisa Nandy said: "These short-sighted cuts will place big limits on our solar industry and lead to job losses.
"These cuts stand in stark contrast to the generous handouts ministers recently announced to dirty diesel generators. At a time when energy bills are a big concern, it makes no sense to limit one of the cheapest forms of clean energy."
Solar is consistently backed by around 80% of people in regular surveys by the Government.
Recommended for you

UK bills will hit nearly £3,600 from October, experts say in final prediction