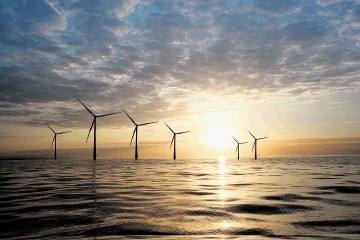 The developer behind the proposed wind farm off the coast of the Trump International golf resort has raised £237million in the sale of another offshore energy project.
Cash-strapped Vattenfall has sold a 49% stake in its Ormonde Offshore Wind Farm to Swedish pension group AMF.
Vattenfall said the deal was part of a "partnership strategy" to raise funds to support growth of its renewable energy business.
The Swedish-state owned energy company said it plans to invest £3.9billion in new wind power generation by 2020 and to triple wind capacity to at least 6GW in the next ten years. The move comes after it booked record losses due to writing down the value of its traditional coal and gas-fired energy generation assets this year.
Earlier this week Donald Trump had his appeal against Vattenfall's European Offshore Wind Development Centre (EOWDC) planned for Aberdeen Bay rejected by the supreme court, although the billionaire pledged to take his fight against the development to European courts.
Vattenfall has said it plans to press ahead with the £230million EOWDC although a final investment decision is not expected until mid-2016.
Vattenfall had invested £400million in the development of the Ormonde project in the Irish sea six miles off the cost of Barrow-in-Furness. The 30-turbine wind farm has been generating low carbon power since 2012 and is one of four offshore wind farms that Vattenfall operates in UK waters.
Magnus Hall, president and chief executive of the Swedish utility said: "The market has shown a considerable interest in Ormonde. The main reason is that the wind farm is profitable and considered to have good prospects for stable and continuous profitability.
"Our partner AMF is a serious and long-term investor. We are therefore very pleased with completion of this deal."
Peder Hasslev, head of asset management for AMF, said: "AMF manages the pension funds of four million customers, meaning the responsibility to create good and secure pensions through long-term investments.
"The Ormonde wind farm investment being sustainable with good returns fits us therefore very well.
"Conditions for off shore wind power in the UK are favourable and in combinations with the partnership and deep knowledge in the wind area of Vattenfall we feel confident about doing this investment."
Recommended for you

Hydrogen Blending: From the North Sea to the network and into UK homes