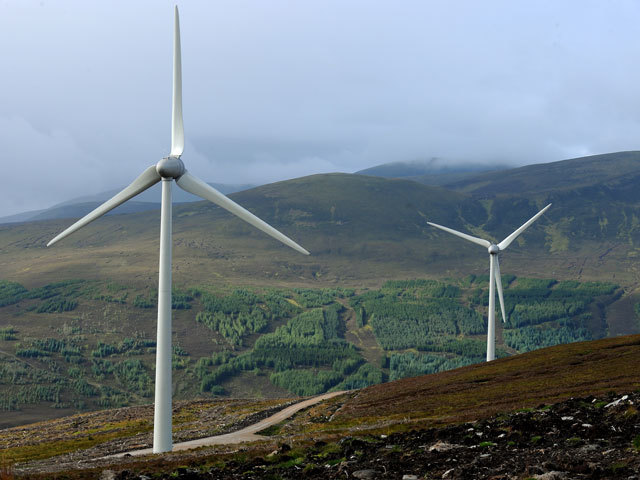 Communities across Scotland received a record sum of more than £10million from green energy projects in 2015, the country's energy minister said yesterday.
Fergus Ewing said it had been a "bumper year" for community energy, but anti-wind farm campaigners said the sum was unimpressive when stacked up against the profits raked in by multi-national energy firms.
Green energy production is growing north of the border. According to new figures, Scotland reached its target for community or local ownership projects five years early.
The Scottish Government had hoped such projects would reach a total capacity of 500 Megawatts (MW) by 2020, but that figure has already been exceeded by 8 MW.
More than 150 projects – including wind farms and hydro schemes – are now on the country's community renewables register, which logs payments to locales from commercial developers.
Mr Ewing said he expects the sector to go from "strength to strength" in 2016.
He said: "Scotland leads the way in the UK on local and community ownership of renewable energy and we are providing the best possible environment to help ambitious community groups reap the benefits.
"I want to see even more communities take decisions about their local energy system and to have an economic stake in new developments."
Helen McDade, head of policy at conservation charity the John Muir Trust (JMT), said small scale renewable energy schemes which benefit communities should be encouraged.
But she said large scale developments in unsuitable locations "do not become acceptable just because local communities will get a small proportion of the profits".
JMT has been active in attempts to prevent energy firm Scottish and Southern Energy from building a large wind farm in the Monadhliath mountains above Fort Augustus.
Anti-wind farm campaigner Lyndsey Ward said no amount of money could make up for the damage done to the environment and Scotland's tourism industry by commercial wind development.
Mrs Ward said: "In the case of wind development the Scottish Government continues to duck and dive and play to the industry's tune.
"Small scale community energy is one thing, having a miniscule portion of the profits made by industrial multinational wind developers thrown at the locals as some kind of attempt at compensation is something entirely different."
She said residents should be balloted before decisions are made on the commissioning of wind farms.
Caithness-based industry watcher and retired engineer Stuart Young said the money used to benefit communities comes from bill payers in the first instance.
He said: "The people who benefit get that money from other people, including the poorest members of the community. It's money which is taken from people to start with."
"Community benefits should be used to compensate people for what they will suffer in the next 20 or so years. If people were to receive compensation first, there would be no money left for these community benefits.
"Furthermore, it is often the case that the community which gets the benefits is not the one that suffers most."