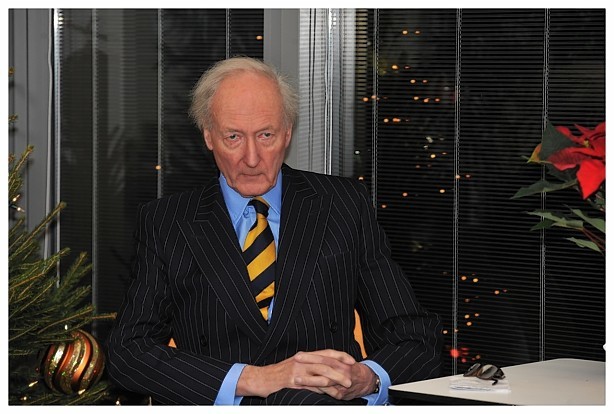 North Sea oil pioneer Algy Cluff insisted yesterday plans for unconventional gas extraction in the Firth of Forth were not dead.
He was speaking after his company said it was switching its "primary focus" away from the firth to pursue underground coal gasification (UCG) projects in England, and conventional oil and gas developments in the North Sea.
Green groups which recently led a protest against his Scottish UCG plans said it was a "massive victory" for campaigners but the issue would not be buried until his firm handed back its UCG licences.
Mr Cluff, chairman and chief executive of Cluff Natural Resources, made the decision after the Scottish Government placed a moratorium on UCG in October. CNR had licences for three UCG developments in the firth, the most promising of which was the so-called Kincardine project.
The London-listed firm was prepared to splash more than £250million on making Kincardine the UK's first UCG project, but those plans have had to be shelved while a Scottish Government-commissioned, independent assessment into the technology is carried out.
CNR said in a statement it felt there was more support for investment in energy and industry in England, where there is no moratorium on UCG.
Mr Cluff said: "We were unpleasantly surprised when UCG was added to the moratorium. From a UCG point of view, we are turning to the north-east of England, where we have licences off Durham." But he thought the assessment would lead to the moratorium being lifted and he was not looking to offload the Scottish UCG licences, despite the setback.
A spokesman for the Scottish Government said the introduction of the moratorium and the assessment were part of a "cautious, evidence-based approach" to UCG.
UCG involves pumping oxygen and water through a borehole to turn the fossil fuel into synthetic gas, which can then be converted into hydrogen, methane, carbon monoxide and carbon dioxide.
WWF Scotland director Lang Banks said: "This news represents a massive victory for all those who have campaigned long and hard to halt Cluff's daft coal-burning plans. However, We'll only be satisfied when the company hands back its licences. Burning coal under the sea should have no place in Scotland's energy future, which is why the government was right to extend its moratorium on unconventional gas extraction to include underground coal gasification. We hope in time this moratorium will become an outright ban."
Richard Dixon of Friends of the Earth Scotland said: "The fight is not over but the moratorium has given communities breathing space to work on a permanent ban on all unconventional fossil fuels. Cluff's change of priorities is a tribute to all who campaigned against their plans. Sadly, what is good news for Scotland is bad news for England, where Cluff will now more actively try to develop UCG schemes."
Cluff also said he believed the North Sea was due a "renaissance".