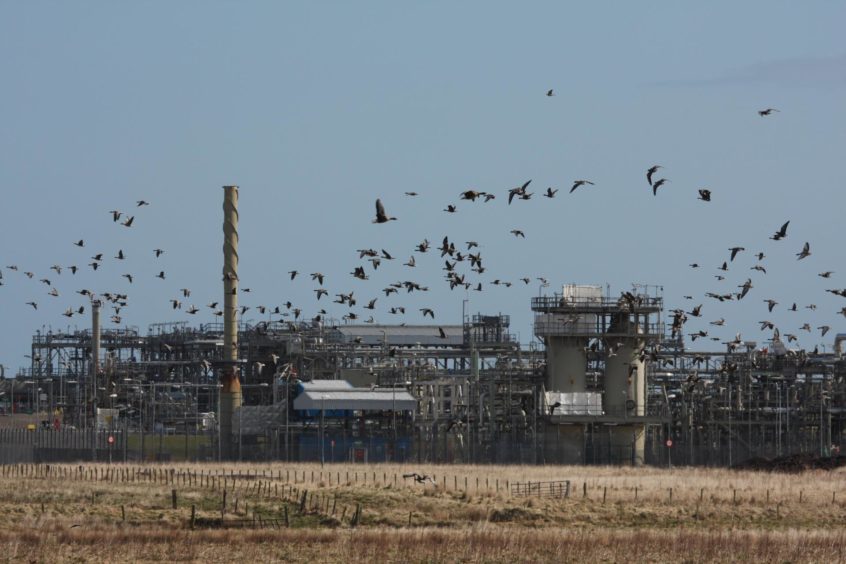 A deal has been struck that could pave the way for emissions from North Sea gas pipelines, operated by ExxonMobil and Shell, to be captured and locked away.
The partners for the Acorn carbon capture and storage (CCS) project have signed a Memorandum of Understanding with the owners of the SEGAL and FUKA gas terminals at St Fergus, near Peterhead.
And work is now underway to devise a plan to capture the existing operational carbon emissions from the two facilities.
Harbour Energy, Shell and Storegga, through its Pale Blue Dot Energy subsidiary, are the project partners for Acorn, which is also based at St Fergus.
Shell also jointly owns the SEGAL terminal, which is fed by the SEGAL and Fulmar lines from the UK North Sea, alongside US supermajor ExxonMobil.
SEGAL also receives from the Tampen link pipeline, meaning the UK can import gas from Norway.
The FUKA facility was previously owned by French energy giant Total, now TotalEnergies, which decided to sell the asset tp North Sea Midstream Partners (NSMP) in 2015.
It is hooked up to the Frigg UK Pipeline, which delivers gas from fields in the Northern North Sea to St Fergus.
Along with a third terminal at St Fergus, SEGAL and FUKA process 35% of the natural gas that feeds into the National Grid for UK homes, businesses and power generation.
ExxonMobil, Shell and NSMP are now working towards a formal agreement to become the first customers for the Acorn CCS project.
Emissions from the two plants would be transported via existing oil and gas infrastructure and stored safely and permanently in rock formations beneath the North Sea.
Nick Cooper, chief executive of Storegga said: "This really is a momentous day for us. Signing the MoU to begin this important work on the St Fergus CO2 emissions represents a key milestone for the Acorn Project and its ability to deliver progress towards the UK's net zero goals.
"These emissions should be the first of many as we plan to scale the project to store more than 20 million tonnes per year of CO2 emissions from Scotland, the UK and potentially Europe by the mid-2030s."
'Scotland's CCS contribution starts here'
The deal with SEGAL and FUKA is part of wider efforts by the project partners to chart how Acorn could help to decarbonise sectors that will continue to rely on hydrocarbons.
It is hoped a CCS facility at St Fergus will provide an essential service for other industry across Scotland, the UK and Europe.
The emerging industry could also give Peterhead a new lease of life, with the potential for carbon emissions to be liquified and transported via ships to the town's deep-water port.
The MoU agreement builds on the recent landmark North Sea Transition Deal, which set out a pathway for government and industry to drive forward the move to a low carbon energy system.
It is also an important indicator of UK momentum towards that goal ahead of November's COP26 summit in Glasgow, Shell, Harbour Energy and Storegga said.
Phil Kirk, president and CEO Europe, Harbour Energy said: "We are excited by the signing of this MoU. The strong commitment of these first customers to decarbonise existing industry in the region is an important first step towards realising the UK's net zero commitments. The scalability of Acorn, its location and critical infrastructure can help more industries and homes across Scotland and the UK to decarbonise."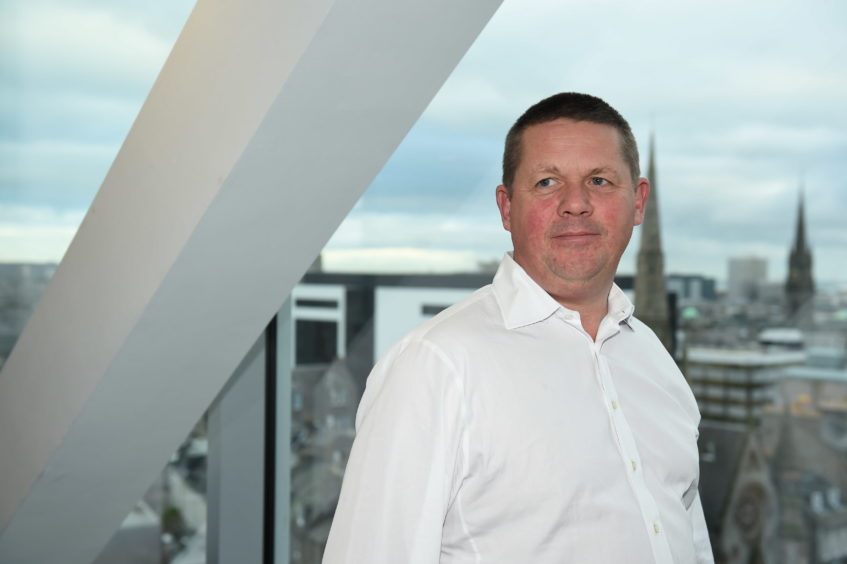 Acorn is among the most advanced CCS projects in the UK and is competing to be one of the first operational facilities.
It's on course for a final investment decision early next year, with the aiming of going live towards the middle of the decade.
This latest announcement comes at the end of a busy week for the project, which recently appointed UK firm Carbon Clean to carry out design and engineering services.
As part of its drive to offer an emissions abating solution to industry across Scotland, it recently signed an MoU with Ineos, the owner of the Grangemouth facility.
Simon Roddy, senior vice president UK, upstream, Shell said: "While St Fergus has had a historic role in providing energy to millions of UK homes and businesses, this MoU marks the first step on its transformation to a new dual role in the future, bringing energy ashore while safely disposing of greenhouse gases.
"Scotland's CCS contribution starts here, with emissions from our own operations at the terminal, and ultimately seeing St Fergus develop as part of a Scottish hub providing carbon storage for businesses across Scotland, the UK and Europe."
Andy Heppel, CEO of North Sea Midstream Partners, said: "We are very pleased to have signed this MoU with the Acorn Project as part of our support for the North Sea Transition Deal and our objective to play a leading role in the Energy Transition and the journey to Net Zero."
NECCUS
Meanwhile, ExxonMobil has also joined industry group North East Carbon Capture Utilisation and Storage (NECCUS).
The alliance, which features leasing companies, government and academic experts, is working to reduce carbon emissions from industrial facilities in Scotland.
ExxonMobil said its would help NECCUS to explore the potential of technology-driven solutions to reduce emissions by drawing on the company's extensive global experience with CCS.
The Texas-headquartered supermajor has more than 30 years of experience capturing carbon.
As well as having an equity share in about one-fifth of global CO2 CCS capacity, ExxonMobil accounts for about 40% of all the bagged CO2 emissions in the world.
Joe Blommaert, president of low carbon solutions at ExxonMobil, said: "ExxonMobil has more than 30 years' experience in CCS technology and is advancing plans for more than 20 new CCS opportunities around the world. We are pleased to support the Acorn Project in the deployment of CCS, one of the most important technologies required to achieve society's climate goals."
He added: "Our membership in NECCUS and our involvement with Acorn underscores our commitment to addressing the dual challenge of meeting the world's energy needs while reducing emissions from our operations.
"As a world leader in the development and use of carbon capture and storage, we will work with the alliance to identify how this technology can play a pivotal role in reducing Scotland's emissions."
Mike Smith, CEO of NECCUS, said: "NECCUS welcomes ExxonMobil to our alliance. Decarbonising industrial emissions will be a challenging but essential part of meeting the national 2045 net-zero target.
"We believe Scotland is well placed to deliver on technologies such as carbon capture and storage, and hydrogen, which are necessary to achieve a net-zero industrial cluster. Collaboration across the organisations within NECCUS will be essential to this ambition, and the experience ExxonMobil brings will enhance this collaboration."