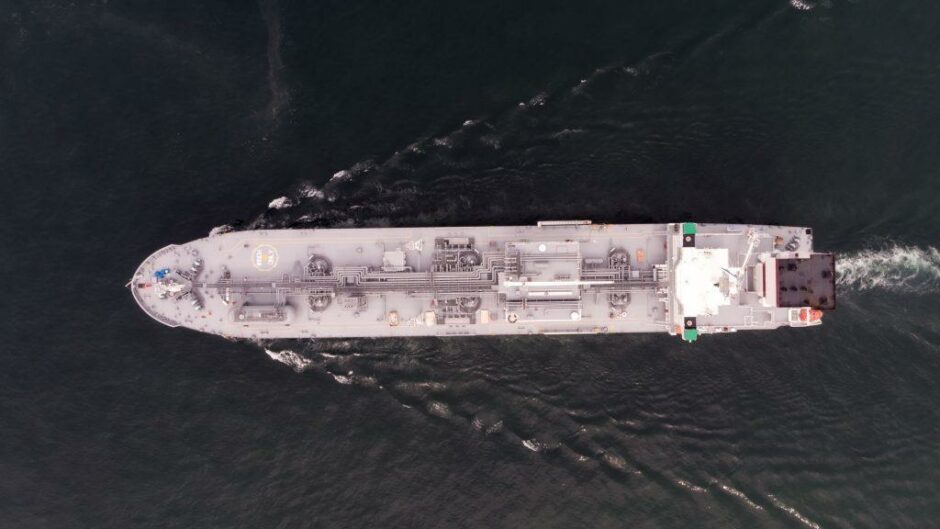 While oil and gas producers in the UK North Sea, especially, have failed to come up with a live carbon capture and storage operation offshore, companies in Norway and Holland have already succeeded in developing a viable CCS system for shipping.
It has the potential to drastically clean up the emissions of shipping that uses heavy oil as fuel, including the bulk of the global cruise ship fleet.
Moreover, these CCS systems can be retrofitted.
The lead players appear to be Dutch maritime technology company Value Maritime and world-renowned marine engine builder Wärtsilä of Finland.
Both have got to the stage where the technology is ready for fitting aboard ships in trade.
Indeed, late last month, Norwegian LPG and petrochemical gas carrier Solvang announced that an upscaled version of the scrubber and carbon capture and storage (CCS) solution it is developing with engine manufacturer Wärtsilä will soon be ready for installation on the ethylene carrier Clipper Eos.
A complete set-up of a 1.2 megawatt (MW) test scrubber/CCS installation is already operating at Wärtsilä's Moss facility in Norway, which also has the task of designing the package for Clipper Eos.
The objective of the project is to capture CO2 from main engine combustion before it passes through the exhaust outlets.
A complex carbon separation process takes place inside the smokestack, resulting in liquid CO2 being transferred to deck tanks, ready for long-term storage or industrial reuse.
"'The system already runs up to 60% carbon capture on some engine loads, which has never been done before. Furthermore, initial indications are that the CO2 captured is very pure, with little or no product contamination," said Solvang's CEO Edvin Endresen.
Basically, a larger version of the 1.2MW plant at Moss will be installed on the Clipper Eos, the main machinery of which is rated 7MW. The equipment will be installed in stages.
An electrostatic filter is to be fitted aboard the vessel this summer. This exhaust gas cleaning system is a world-first for ships, according to Solvang.
Late next year, carbon absorber and stripper units will be installed. Modification to the ship's existing liquefaction plant will also be carried out to cater for deck tanks.
Over the following two years (2024/5), a complete CCS setup will operate alongside the existing scrubber and exhaust gas cleaning systems on board Eos, providing a stream of live data.
Solvang says that the application of CCS to deep-sea shipping will mark a "great step towards net-zero" by an industry that has a serious need to clean up its emissions act.
The captured CO2 can then be transformed into electro-fuels.
Solvang can fairly be regarded as a global pioneer, having for 20 years worked with Norwegian research organisations Sintef and NTNU, engine makers, shipyards and equipment producers to reduce greenhouse gas emissions.
Significant steps have been made over that period. Notable is the development of SOx (sulpher oxides) scrubbers and low-pressure exhaust gas recirculation units to significantly reduce harmful emissions.
CCS is the next and most significant step of the company's greening voyage.
Meanwhile, in the Netherlands, Value Maritime is claiming an operational world-first for its ship-board CCS system.
It's an already successful CO2 capture module known as Filtree, which is installed on a variety of ships, plus a storage system described as a the CO2 battery will be installed on fellow Dutch company Visser Shipping's container ship Nordica in October.
The vessel will be operated by X-Press Feeders, a container shipping group operating out of Singapore.
The key differentiator of Value Maritime's system is that, once the CO2 has been scrubbed from a ship's exhaust, the recovered gas will be used to charge a storage tank (the 'battery'), which can, according to the firm, fill and discharge CO2 infinitely.
The fully charged CO2 battery will be offloaded in port and transported to customers who utilise CO2 for a variety of applications.
This has been described by Value Maritime as a 100% circular solution, and classification society Bureau Veritas has been closely involved in the system's development, trialling and certification.
Value Maritime is soon starting battery offloading trials at Rotterdam Short Sea Terminal. It is also planning similar facilities in the German ports of Bremerhaven and Hamburg.
Set up in 2017, it already claims significant successes helping ship owners to reduce emissions and save fuel at the same time.
It has so far equipped 12 vessels with a Filtree unit with a current orderbook of five, including a repeat order from Visser. They included family-owned HS Shiffahrt and BGFreight Line, which is a member of Peel Group.
Recommended for you

Repsol awaits Indonesia regulation to carry out CCS project