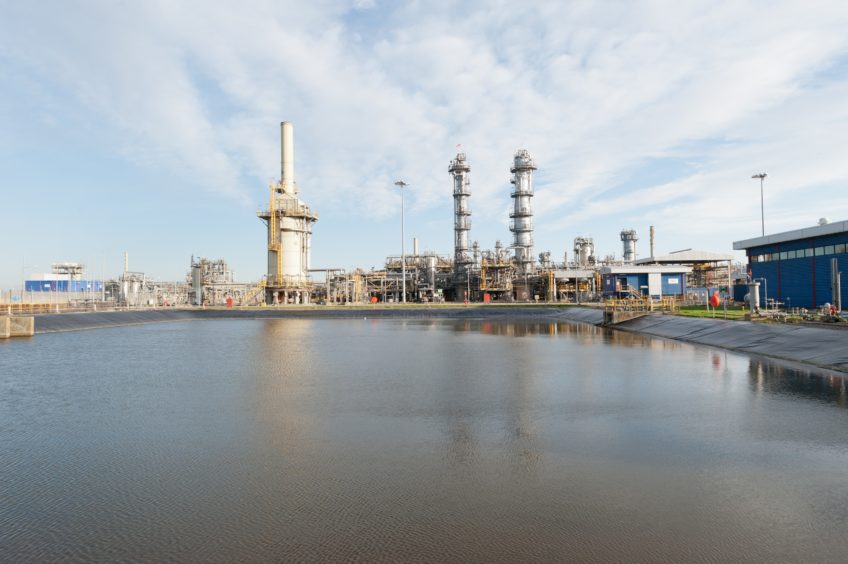 Environmental campaigners have branded carbon capture and storage (CCS) a "dangerous distraction" from the urgent need to decarbonise the energy sector.
Friends of the Earth Scotland (FOES) and Global Witness also called for public funds currently tied up in CCS projects to instead be spent on renewables and energy efficiency measures.
It follows the publication of a report by the Tyndall Centre, which claimed the technology will not be able to meet the levels of emissions reduction required over the coming years.
The study, which was commissioned by the two climate change groups, also revealed that the vast majority (81%) of carbon captured globally to date has been used to extract more oil.
The Department for Business, Energy and Industrial Strategy (BEIS) hit back at the claims, arguing that CCS and renewables are not "mutually exclusive".
Becoming a "world leader" in CCS is one of the pillars of Boris Johnson's 10-point plan for a green industrial revolution.
To date, Westminster has pledged a combined total of £1 billion to establish four CCS clusters across the UK by 2030.
Last year, then energy minister Kwasi Kwarteng said it was incumbent upon the government to make the case for the deployment of the technology, adding that he felt the majority of the public is "apathetic" about its use.
Meanwhile, in December's update to the Climate Change Plan, the Scottish Government announced £80 million of funding to support the development of the technology north of the border.
But, environmental campaigners have accused the technology of consistently failing to "deliver on projections" and have called for a re-direction of investments.
They claim that by giving backing to a range of "readily deployable renewables", governments would create more jobs, more quickly cut emissions and improve people's quality of life.
There are currently no operational CCS plants in the UK, though work is ongoing at several sites to assess its potential for future use in the energy mix.
One of those is the Acorn project at the St Fergus gas terminal in Aberdeenshire, which is exploring the possibility of using existing oil and gas infrastructure to store carbon in disused gas reservoirs under the North Sea.
The scheme is solely focussed on storage and would not use the captured CO2 to enhance oil production on the UKCS.
Globally there are 26 CCS plants in operation and widespread deployment isn't expected until the 2030s.
Jess Cowell, FOES climate campaigner, accused politicians of trying to garner support for a technology that has a "long history of over-promising and under-delivering."
She said: "The shocking revelations that the small number of existing Carbon Capture plants in existence are almost all being used to increase fossil fuel extraction must give pause to anyone who is pushing this as a realistic solution to the climate crisis.
"The Scottish Government plan of relying on CCS to do the heavy lifting of emissions cuts by 2030 isn't remotely credible when there isn't a single working CCS plant anywhere in the UK.
"This report makes it clear that Carbon Capture and Storage is a dangerous distraction from the necessary action to cut climate emissions from our energy sector in this crucial decade. Instead we need a bold plan setting out steps to phase out fossil fuel extraction and use, while ensuring a just transition for workers and communities dependent on the industry.
"Carbon is already captured and stored underground in fossil fuels. We should be leaving it there instead of spending billions trying to invent technology to solve this problem of our own creation."
A BEIS spokesman said: "Carbon Capture Usage and Storage and renewables are not mutually exclusive, but work hand-in-hand. Indeed, the independent Committee on Climate Change described CCUS as 'a necessity, not an option'.
"That is why we are committed to building both industries concurrently as set out in the Prime Minister's Ten-Point-Plan, creating tens of thousands of new jobs across the UK. Doing so will ensure we can build back greener, cut carbon emissions, maintain security of supply and keep energy costs low for consumers."
Recommended for you

Dick Winchester: is CCS already redundant?