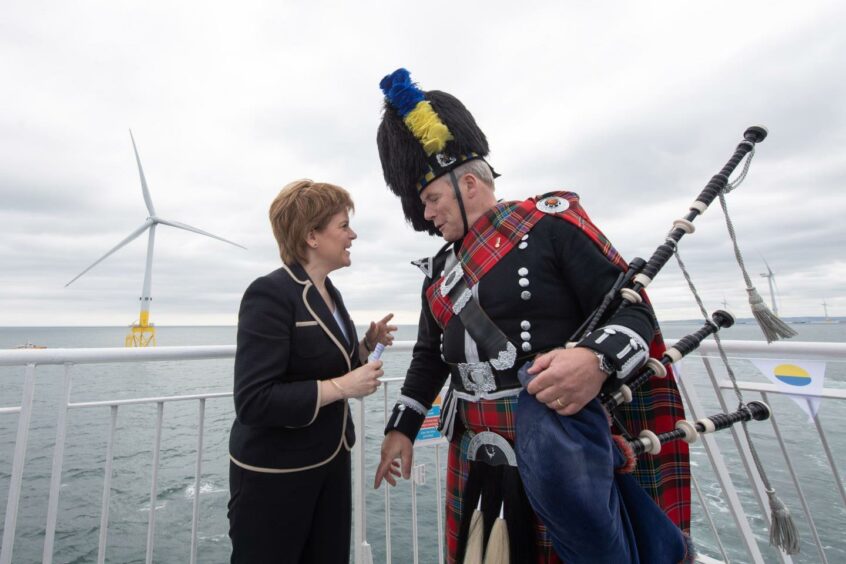 BP, Shell and SSE Renewables have been selected to build the next generation of Scottish offshore wind farms.
Crown Estate Scotland has today announced the outcome of its application process for ScotWind leasing.
It is the first process of its kind since since the management of offshore wind rights were devolved to Scotland.
A total of 17 projects, with combined capacity of 25 gigawatts (GW) have been selected out of a total of 74 applications, and have now been offered option agreements which reserve the rights to specific areas of seabed.
From the successful bids, just shy of £700 million will be paid to the Scottish Government for public spending.
The 17 projects will cover an area of seabed spanning more than 7,000km2, with Scotland's supply chain in line for multi-billion pound investments, Crown Estate Scotland said.
A full list of the winners, the options fees, the project type and total capacity is below:
BP & EnBW- £85,900,000 – Fixed – 2,907 megawatts (MW)
SSE Renewables, Marubeni Corporation, Copenhagen Infrastructure Partners – £85,900,000 – Floating – 2,610 MW
Falck Renewables, BlueFloat Energy – £28,000,000 – Floating – 1,200 MW
Shell, Scottish Power Renewables – £86,000,000 – Floating – 2,000 MW
Vattenfall, Fred Olsen Renewables – £20,000,000 – Floating – 798 MW
Deme Group, Aspiravi and Qair – £18,700,000 – Fixed – 1,008 MW
Deme Group, Aspiravi and Qair – £20,000,000 – Floating – 1,008 MW
Falck Renewables, BlueFloat Energy, Orsted – £25,600,000 – Floating – 1,000 MW
Ocean Winds – £42,900,000 – Fixed – 1,000 MW
Falck Renewables, BlueFloat energy – £13,400,000 – Floating – 500 MW
Scottish Power Renewables, Shell – £68,400,000 – Floating – 3,000 MW
Floating Energy Allyance (BayWa, Elicio, Ideol) – £33,000,000 – Floating – 960 MW
Offshore Wind Power (TotalEnergies, Green Investment Group, Renewable Infrastructure Development Group) – £65,700,000 – Fixed – 2,000 MW
Northland Power – £3,900,000 – Floating – 1,500 MW
Magnora, Technip – £10,300,000 – Mixed – 495 MW
Northland Power – £16,100,000 – Fixed – 840 MW
Scottish Power Renewables – £75,400,000 – Fixed  – 2,000 MW
Totals:
The Scottish Government said the 25GW of projects are expected to secure at least £1bn in supply chain investment for every 1GW of capacity proposed.
First Minister Nicola Sturgeon has welcomed the "truly historic" opportunity for Scotland's net zero economy.
"ScotWind puts Scotland at the forefront of the global development of offshore wind, represents a massive step forward in our transition to net zero, and will help deliver the supply chain investments and high quality jobs that will make the climate transition a fair one.
"It allows us to make huge progress in decarbonising our energy supply – vital if we are to reduce Scotland's emissions – while securing investment in the Scottish supply chain of at least £1 billion for every gigawatt of power. This will be transformational. And because Scotland's workers are superbly placed with transferable skills to capitalise on the transition to new energy sources, we have every reason to be optimistic about the number of jobs that can be created."
Simon Hodge, chief executive of Crown Estate Scotland, said: "Today's results are a fantastic vote of confidence in Scotland's ability to transform our energy sector.  Just a couple of months after hosting COP26, we've now taken a major step towards powering our future economy with renewable electricity.
"In addition to the environmental benefits, this also represents a major investment in the Scottish economy, with around £700m being delivered straight into the public finances and billions of pounds worth of supply chain commitments. The variety and scale of the projects that will progress onto the next stages shows both the remarkable progress of the offshore wind sector, and a clear sign that Scotland is set to be a major hub for the further development of this technology in the years to come."
What happens next?
Should any application not progress to signing a full agreement, the next highest scoring bid will instead be offered an option.
Once these pacts are officially signed, the details of the supply chain commitments made by the applicants as part of their Supply Chain Development Statements will be published.
The announcement of the winners is the first stage in a long process and it will be many years before projects become a reality.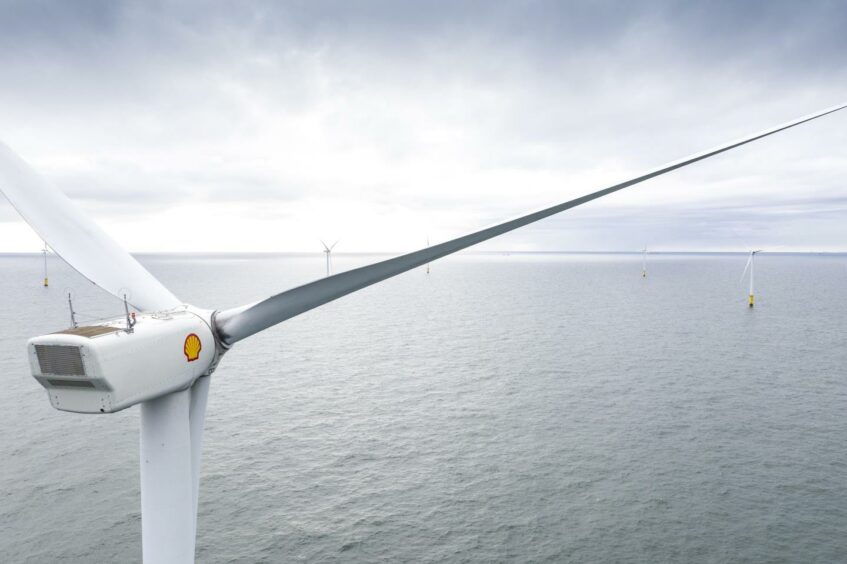 Developers have to go through consenting, financing, and planning stages on their way to putting turbines in the sea.
Responsibility for these stages does not sit with Crown Estate Scotland, and projects will only progress to a full seabed lease once all these various planning stages have been completed.
Who missed out?
Given the gulf between bids submitted and plots of land available, there were always going to be many disappointments.
Among the biggest omissions from the winners list is Equinor, one of the world leaders in floating offshore wind.
The Norwegian energy giant applied to build 1 gigawatt (GW) of floating wind.
German renewables giant RWE was also unsuccessful, as were Ireland's ESB, France's EDF Renewables and Italy's Eni.
What is ScotWind?
Organised by Crown Estate Scotland, ScotWind is the mechanism that allows developers to secure areas of seabed that can then be turned into offshore wind farms.
A total of 74 bids were submitted by companies and consortia hoping to put their stamp on Scotland's low carbon future.
And while many contenders have been left disappointed by today's announcement, Holyrood has committed to more leasing rounds in the near future.
Now that the list of winners has been firmed up it gives a clearer picture of Scotland's offshore wind future.
Once the dust has settled successful applicants will press go on their proposals, ushering in a new dawn for Scotland's energy sector.
Billions of pounds will be invested by companies in the next few years, with big wins expected for the domestic supply chain.
READ: Who ensures the big money pledges are kept?
Cash will translate into contracts, creating an extended pipeline of work that will yield and support numerous jobs, helping to deliver a just transition.
Moreover the leasing round alone, the first in Scotland in more than a decade, could raise up to £860m for the public purse, according to the SNP.
Up until now the benefits to Scotland of offshore wind projects in the country's waters waters have been limited with much of the work going overseas.
But it is hoped that ScotWind will signal a step change in that regard, with local content guides in place and swathes of commitments already made by prospective developers.
An 'exciting and significant moment'
Claire Mack, chief executive of Scottish Renewables, said: "Today's announcement on the outcome of the first ScotWind leasing round is an exciting and significant moment in Scotland's renewable energy story, with offshore wind set to make a major contribution to bringing about our net-zero future. The potential for 17 new projects creates huge ambition for our sector to deliver on, and will require strong collaboration to deliver maximum impact for our economy and environment. The scale of commitment to Scotland's supply chain outlined alongside today's announcement creates an incredible platform for industrial transformation and revitalisation.
"These lease offers add greatly to our existing pipeline of projects in construction and development. Scotland now has an extensive and attractive offshore market, and the most seabed dedicated to commercial floating wind development anywhere in the world. These 11 floating wind projects give Scotland a historic opportunity to create a major new sector to drive the blue economy, drawing on our deep water expertise and making a just energy transition a reality in the North Sea."
A 'test' for the industry
Understandably, given the offshore wind sector's track record in Scotland, there are those that are reserving judgement on ScotWind.
GMB Scotland Secretary Louise Gilmour said: "After the abject failure of the last decade on offshore wind manufacturing, progress will be judged on the number of jobs and scale of investment this leasing round brings to Scotland.
"But let's be clear there are no guarantees – the list of successful applicants includes firms that have offshored tens of thousands of green manufacturing jobs to the rest of the world in previous projects.
"This is a massive test of the renewables industry's environmental and social justice credentials, and the last chance saloon for political leaders who have promised a green jobs revolution for years."