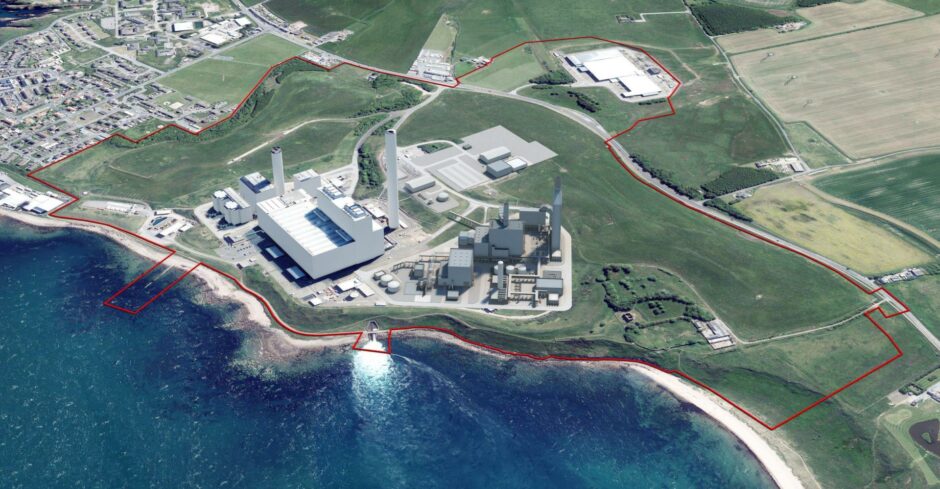 Plans for new north-east low-carbon power station – that could create and support scores of green jobs – have taken a "major step" forwards.
Developers SSE Thermal and Equinor have formally submitted a planning application for the proposed 910 megawatt (MW) 910MW Peterhead Carbon Capture Power Station.
If the project gets the go ahead, it would become Scotland's first facility capable of abating its own emissions.
In January, SSE Thermal and Equinor entered the Peterhead project into a UK Government competition designed to support industrial clusters.
And earlier this month it was announced that the scheme will progress to full evaluation stage as part of Phase 2 of the process.
A Section 36 planning application has now been lodged with the Scottish Government's Energy Consents Unit, a "vital step" into making the project a reality.
Once up and running, the Peterhead power station would provide a base load of power to the grid that would be bolstered by green energy projects.
In doing so developers say it will facilitate the transition to net zero and pick up the slack when wind speeds are low.
In total, the proposed new station could capture an average of one and a half million tonnes of carbon a year – that's about 5% of the UK Government's 2030 target for carbon capture and storage (CCS).
It would hook up to the Scottish Cluster's CO2 transport and storage infrastructure, including the Acorn project that is located nearby.
SSE previously said the facility would support about 1,000 jobs in the construction phase, while dozens more workers would be needed on a long-term basis to operate the plant.
Martin Pibworth, SSE's group energy and commercial director, said: "Peterhead Carbon Capture Power Station could provide flexible low-carbon power while backing up the renewables-led system and will be crucial to a secure energy future for Scotland and the UK.
"Significant progress has already been made by the UK Government on CCS policy and associated business models – that must now be followed by greater ambition in terms of the number of power CCS projects supported this decade, allowing carbon capture to fulfil its essential role in achieving a net zero power system in the 2030s.
"By delivering the proposed new station with Equinor we can not only support a secure and affordable transition to net zero, we can also maximise the benefits of the low-carbon revolution for workers and communities in the north-east of Scotland. Projects such as this underline our wider commitment to delivering on decarbonisation targets, with SSE investing £12.5bn to 2026 to power the UK's energy transition through our Net Zero Acceleration Programme."
Situated on the Aberdeenshire coast, the Peterhead site is a short distance from the St Fergus gas terminal, which houses the Acorn project.
Developers Harbour Energy, Shell, North Sea Midstream Partners (NSMP), and Storegga are planning to repurpose oil and gas infrastructure to allow it to store carbon under the North Sea.
It is the backbone of the Scottish Cluster, which was picked as the reserve cluster in a UK Government funding competition, to the anger of industry figures in the north-east.
Many believe that in order to decarbonise large swathes of the economy, all the industrial clusters that ran in the competition will be needed.
And with the necessary policy mechanisms and infrastructure in place, and with the Scottish Cluster supported by UK Government, Peterhead Carbon Capture Power Station could be operational as early as 2027, developers claim.
Grete Tveit, senior vice president for low carbon solutions at Equinor, said: "This is another important step in the longstanding partnership between Equinor and SSE.
"Peterhead Carbon Capture Power Station will make a significant contribution towards the UK's net zero ambition, while also working alongside intermittent renewables and enhancing low-carbon energy security. Equinor and our partners are dedicated to delivering our hydrogen and CCS projects to help the UK become a world leader in hydrogen and low carbon, safeguarding high-value jobs and creating thousands of new ones."
Charlie Youngs, head of CCS at the Scottish Cluster, said: "This is an exciting milestone for one of the Scottish Cluster's key low-carbon energy projects. With Peterhead Carbon Capture Power Station hoping to be fully operational in 2027, we are continuing to work with both the UK and Scottish Governments to ensure the Acorn CO2 transport and storage infrastructure will be ready to safely and securely manage the CO2 emissions from this plant."
Recommended for you

Aberdeen in line for jobs boost as Spirit unveils plans to repurpose gas fields