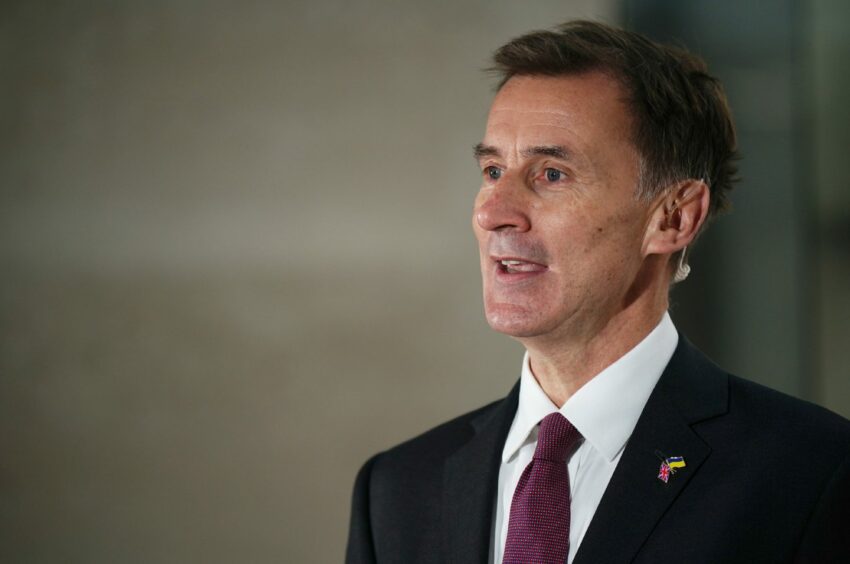 Chancellor Jeremy Hunt vowed to commit £20bn to carbon capture technology over the next two decades, alongside new support for small modular nuclear reactors (SMRs).
Mr Hunt labelled the funding – set to be unveiled in this week's Budget – a "clean energy reset", which he said would help create up to 50,000 jobs and support the UK's target to capture 20-30 million tonnes of emissions per year by 2030.
It comes as the backers of key carbon capture and storage (CCS) projects called for confirmation on the next stage of the government's cluster deployment plan, known as Track 1 and Track 2.
Last week MPs said progress on policies needed to develop CCS and hydrogen technologies had so far been "lacking", and warned that unless solutions are rolled out at scale the UK would fail to meet its net zero targets.
In particular, the Scottish Affairs Committee said it was "disappointed with the lack of priority" given to the north-east Acorn CCS project at St Fergus, which was relegated to the Track 2 process during initial awards in 2021.
Part of the Scottish Cluster scheme – which would see industrial emissions from the central belt to the north-east and captured and stored offshore – Acorn aims to store 5-6 million tonnes of CO2 per year in its first phase, though developers say it could "easily" ramp up 20 million tonnes per year.
The move is also likely to encourage developers of the Viking CCS scheme around the Humber, including Harbour Energy. The hub would transport and store 10 million tonnes of CO2 per year in the offshore Viking fields by 2030, and up to 15 million tonnes by 2035.
Though Mr Hunt did not specify any update on the custer sequencing programme, the government promised "unprecedented investment" of £20bn over the next 20 years and that it would "commit to spades in the ground on these projects from next year".
It also promised to "rapidly" announce the winners of a competition to build SMRs across the UK in a bid to expand the country's nuclear fleet, and would "match a proportion of private investment" in the schemes, though did not issue further details.
Mr Hunt said: "Without Government support, the average household energy bill would have hit almost £4,300 this year, which is why we stepped in to save a typical household £1,300 on their energy bills this winter.
"We don't want to see high bills like this again, it's time for a clean energy reset. That is why we are fully committing to nuclear power in the UK, backing a new generation of small modular reactors, and investing tens of billions in clean energy through carbon capture.
"This plan will help drive energy bills down for households across the country and improve our energy security whilst delivering on one of our five promises to grow the economy."
Energy Secretary Grant Shapps said: "Putin's illegal invasion of Ukraine has demonstrated to the world the vital importance of increasing our energy security and independence – powering more of Britain from Britain and shielding ourselves from the volatile fossil fuels market.
"Already a global leader in offshore wind power, we now want to do the same for the UK's nuclear and carbon capture industries, which in turn will help cut the wholesale electricity prices to amongst the lowest in Europe.
"Today's funding will play an integral role in delivering that, helping us further towards our net zero targets and creating green jobs across the country."
Recommended for you

Large-scale carbon capture an 'illusion' for oil and gas companies