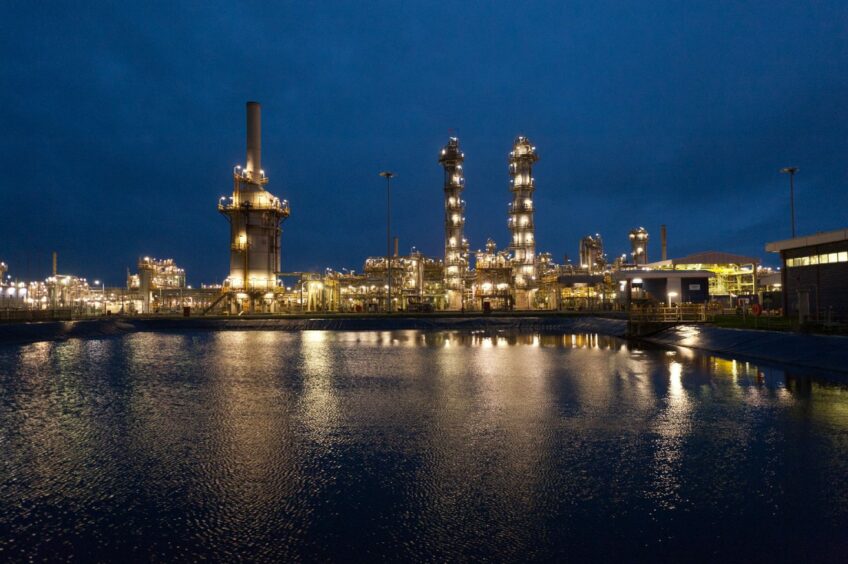 The path has not run smooth for the north east's Acorn CCS project, however new funding commitments in the Spring Budget may finally see the pioneering plans take root.
Based at St Fergus near Peterhead, the Acorn carbon capture and storage (CCS) project is a lynchpin in Scotland's efforts to reduce emissions to net zero by 2045.
Part of a country-wide cluster, the scheme would see industrial emissions from the central belt to the north-east captured and stored in depleted oil and gas reservoirs offshore.
Yet patchy support from developers and successive governments at Holyrood and Westminster have seen it languish for nearly two decades.
Now government backing may be finally forthcoming as part of Chancellor Jeremy Hunt's 2023 Spring Budget, in which he vowed £20bn of support over the next two decades as part of a "clean energy reset".
It's hoped the move will finally end years of uncertainty surrounding the scheme, unlocking investment, jobs and action on Scotland's plans to decarbonise.
Energy Voice looks back at the past decade of the project's development.
2005-14: Peterhead CCS
Plans for a north east CCS hub were first mooted in relation to the Peterhead power station, as part of a scheme to decarbonise the ageing site in 2005.
BP, ConocoPhillips, Shell and SSE said they would generate hydrogen for power while capturing carbon emissions, though BP scrapped plans when the UK government said funding would only be made available via a competition – a move which the supermajor said did not fit with its proposed timetable.
Plans at Peterhead were resurrected around 2012, this time led by Shell and plant owners SSE. These aimed to capture 10 million tonnes of CO2 over 10 years as part of what was billed as "the first industrial-scale application of CCS technology" at a gas power station anywhere in the world.
A new pipeline would link the plant with St Fergus Terminal, with CO2 then transported and stored in the depleted Goldeneye reservoir, about 62 miles offshore in the outer Moray Firth.
The Conservative-Liberal Democrat coalition Government backed the scheme, promising £10m in funding to help develop it and the White Rose scheme in Yorkshire.
2015: Funding pulled
Hopes were then dashed in 2015 when the government pulled support for a £1 billion CCS competition aimed at getting the two projects into operation.
In announcement to the London Stock Exchange, said funding for the scheme was no longer available.
Scottish energy minister Fergus Ewing branded the withdrawal "a disgrace" enacted as part of "a deeply flawed austerity agenda," while local residents and businesses were equally bereft.
2017: Acorn seeds planted
The project was shelved until 2017 when new support emerged for the CO2 transport and storage portion of the project at St Fergus.
First Minister Nicola Sturgeon announced funding for a feasibility study into a scheme now called "Acorn CCS" at in her programme for government in September of that year.
At the time Acorn was billed as a smaller-scale project to one previously proposed for Peterhead to remove some of the barriers faced by larger schemes, but its backers – including Pale Blu Dot, later to become Storegga – it was hoped that a much larger development would emerge as a result.
2018-19: FEED and funding
In 2018 the UK and Scottish Governments – along with Pale Blue and St Fergus owner Total – committed further funding to match contributions from the European Commission's Connecting Europe Facilities fund and progress further feasibility work.
Late that year Energy Minister Claire Perry outlined an "action plan" to get the UK's first CCS scheme running by the mid-2020s, and committed £45m to CCS innovation work, alongside separate funding to help funding industrial sites around the country decarbonise.
Regulators the Oil and Gas Authority and seabed manager Crown Estate also issued the developers with the country's first storage licence and lease agreement for offshore CCS, respectively.
More positive noise followed as the Scottish Government signed a charter aimed at progressing north east decarbonisation plans. Led by North East Carbon Capture, Usage and Storage Alliance (Neccus), the agreement included North Sea energy firms Shell, Total, SSE and producer Chrysaor – now Harbour Energy – as well as Peterhead Port Authority, Pale Blue Dot and the Oil and Gas Technology Centre (OGTC).
2020: Ten Point Plan
In 2020 the UK Government launched its Ten Point Plan for a Green Industrial Revolution, the eighth pillar of which was to invest £1bn in infrastructure to store up to 10 million tonnes of CO2 per year by 2030.
Later upped to 20-30 million tonnes, this pledge set the scene for the cluster sequencing competition through which funds would be allocated the following year, with two schemes slated to be running by 2025 and a further two by 2030.
2021: Cluster competition
Despite some delays, the cluster programme was finally set for autumn 2021.
In preparation for their bid, Shell, Storegga and Harbour became equal partners in Acorn.
Meanwhile the Scottish Cluster was launched that May, formally linking Acorn CCS with other plans to produce blue hydrogen at St Fergus, and to offer a route to store industrial CO2 emissions from across Scotland – including those from Ineos' Grangemouth refinery and petrochemicals site.
The partners said Acorn would help unlock up to 30% of the UK's CO2 storage potential, and enough yearly capacity to meet 60% of its 2030 target, securing up to 15,000 jobs by 2050 in the process.
Track 1 snub
However, Acorn did not secure backing in the first, "Track 1" process, losing out to two schemes in the north west and north east of England: Hynet, backed by ENI, and the East Coast Clusters, developed by a consortium that included BP and Shell.
The scheme was instead selected as a "reserve cluster."
The outcry from developers, politicians and businesses was again one of incredulity, with MP Stephen Flynn blasting the decision as "scandalous".
The snub was even acknowledged by First Minister Nicola Sturgeon, who noted that: "Despite the fact that Acorn was considered the most advanced of the projects bidding to be taken forward, it was passed over.
"I find that decision inexplicable on any objective grounds."
2022: 'Urgent clarity'
With Acorn now in "reserve" attention turned to the Track 2 process.
However, there was little news from government during the following months, and by summer backers of the cluster were concerned over delays to the stated timeline for development.
At the time Storegga said it hoped the scheme could still be producing hydrogen by 2027 but was wary of any further delays to the cluster programme.
Speaking in July a representative said interest in the scheme was still strong and that Acorn had received over 800MW worth of enquiries from potential end users and customers in the region ahead of its Track 1 bid.
In the meantime, plans were also lodged for a revamped Peterhead CCS and power scheme.
While the government later pledged to accelerate its timeline, political chaos sapped progress and an end-of-year deadline elapsed without an update.
2023: 'Clean energy reset'
This year began with escalating rhetoric over the plans, with Scottish energy secretary Michael Matheson warning that investors could "withdraw" from Acorn as a result of continued delays.
It was a sentiment echoed by the Scottish Affairs Committee and others, who urged the Chancellor to use his Spring Budget to finally move the scheme forward.
Its message appears to have been heeded.
Lat Friday, Jeremy Hunt vowed to commit £20bn to carbon capture technology over the next two decades, alongside new support for small modular nuclear reactors (SMRs).
Previewing his budget, Mr Hunt labelled the funding a "clean energy reset", which he said would help create up to 50,000 jobs and support the UK's 2030 capture target.
While the details are yet to be revealed it marks the surest sign yet that support may be forthcoming – something Acorn's supporters are hopeful will mark a "defining moment" for the project and for the UK's wider CCS sector.
Recommended for you

Kellas Midstream secures first hydrogen customer for H2NorthEast