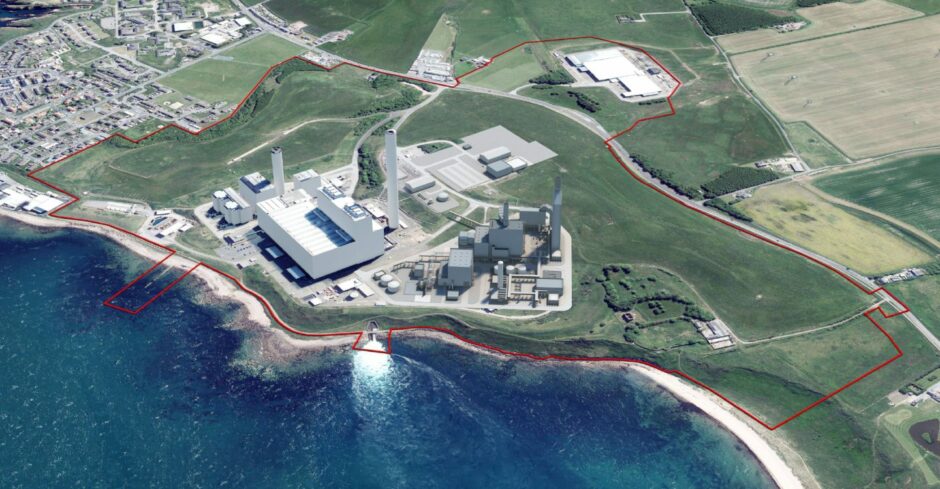 The expansion of Peterhead Power Station has come under fire from environmental campaign groups after it emerged both the new and old gas plants could be kept running concurrently in the case it is needed for security of supply.
Developers SSE Thermal and Equinor, the Norwegian energy giant, are currently planning build the Peterhead Carbon Capture Power Station on the site of the existing one at Boddam.
The project is expected to support around 1,000 jobs in the construction phase, with dozens of long-term roles to operate the plant.
A recent report on the project estimated it could be worth £60 million to the economy of the north-east.
In a recent application to the environmental regulator, Sepa, SSE said the existing plant may have to operate at full capacity alongside the new plant.
Prior to this the firm had said a "worst case scenario" for environmental impact of the plant would see just one of the old turbines running.
However this was changed due to "recent security of supply concerns" in the wake of the Russia's invasion of Ukraine which tightened oil and gas supplies around the world considerably, driving up price.
Environmental groups said this meant the power station – already Scotland's largest single emitter of carbon – could take up 10.7 of the carbon budget by 2034.
The new power station will be at the head of the proposed Acorn carbon capture and storage (CCS) at nearby St Fergus and will connect into the Scottish Cluster's CO2 storage infrastructure.
Doing so will allow major decarbonisation of power generation, capturing 1.5 million tonnes of carbon; 5% of UK government targets for 2030.
Earlier this week, the Aberdeenshire CCS scheme was confirmed as a "leading contender" for development in a newly-launched UK Government funding round after years of frustrating delay.
In a statement, a spokesperson for SSE Thermal said: "As the Climate Change Committee outlined recently, gas CCS will be needed if we're to achieve a decarbonised power system and, in turn, reduce the UK's dependence on imported oil and gas.
Carbon capture technology will be essential to decarbonising the power system on the way to net zero.
"Both the Scottish and UK Government recognise that, with the latter recently outlining plans to invest £20bn in CCUS over the next 20 years.
"As the UK's only flexible power station north of Leeds, decarbonising Peterhead is of the utmost importance which is why we continue to progress plans for the new Peterhead Carbon Capture Power Station, which would provide vital backup to renewables while being low-carbon in its own right.
"The new plant, which would connect into the wider CCS infrastructure being developed by UK Government, will ultimately replace the existing station, which we have already said we don't foresee running unabated beyond the end of this decade.
"This will deliver huge emissions reductions and the reality is the project will not proceed unless it can capture at least 90% of emissions. Indeed, we are working to secure even higher capture rates."
"Currently, the project is in the planning process and as part of that we continue to liaise with a range of stakeholders. Ultimately, Peterhead Carbon Capture Power Station will help to keep the lights on, facilitate the transition to net zero and create jobs in the region."
Scotland's first carbon capture-enabled power plant at Peterhead
Environmental campaigners are calling for plans for an additional gas-fired power station at Peterhead to be scrapped after SSE admitted the project could increase climate-damaging pollution.
The shocking admission was made in planning documents from SSE responding to environmental regulator SEPA's questioning of the proposals. In February 2022 SSE and Equinor submitted a planning application to build a new gas fired power station in addition to the existing plant at Peterhead, Aberdeenshire.
SSE conceded that "should both of the plants operate simultaneously this will result in an emissions increase from approx. 1.29MTCO2e to 1.54MTCO2e. This would represent 10.7% of the Scottish Carbon Budget in 2034"
The current Peterhead power station has already been the single most polluting site in Scotland for several years belching out over 1 million tonnes of climate harming gases annually and worsening the climate emergency.
The Peterhead project was further undermined by the failure of the Acorn carbon capture project to secure funding from the UK Government as part of its 'powering up Britain' strategy, announced on Thursday, despite carbon capture schemes being at the heart of that plan.
The revelation comes shortly after another damning UN report which highlights the urgent need to phase out fossil fuels, but the proposed Peterhead plant has a lifespan beyond 2045.
Friends of the Earth Scotland climate campaigner Alex Lee said: "SSE's expansion plans for Peterhead could make Scotland's biggest polluter into an even greater disaster for our climate.
"SEPA's questions have forced SSE to admit that their fossil fuelled plans risk increasing climate pollution for years to come, swallowing up huge chunks of our limited carbon budgets and endangering our climate commitments. This admission is an enormous embarrassment for the energy giant and must force any supporters of the project to think again.
"Any plan that locks Scottish households into relying on expensive fossil gas for decades to come will only benefit profiteering oil companies at immeasurable cost to our climate.
"As the UN warns once again of the urgent need to get off fossil fuels, Scotland should be transitioning to powering our lives with renewable energy, not building new oil and gas infrastructure.
"The Scottish Government needs to re-think its energy strategy, end the fantasy that technologies like carbon capture are going to solve the climate crisis, and instead focus on delivering a just transition to a renewable energy economy.
"With full power to determine whether the new Peterhead gas plant should go ahead, and with this clear admission that it will increase climate harm, Humza Yousaf's new Government must show real climate leadership by rejecting it when the time comes."
Acorn essential
SSE and Equinor claim that they will add Carbon Capture and Storage (CCS) technology to the plant at a later date but the whole project relies on the still unfunded and stalling Acorn Project to transport and store any carbon captured under the North Sea.
SSE refused to answer SEPA's questions about how efficient the plant would be and for them whether the developers could substantiate predicted carbon capture rates. Without this information Aberdeenshire Councillors will be unable to fulfil their statutory duty to act in a way best calculated to contribute to emissions reductions when the planning application comes before them.
Carbon capture and storage technology has a long and troubled history and has consistently failed to deliver on projected emissions reductions. The Peterhead project has been put forward despite advice to the Scottish Government from leading climate scientists and energy experts that CCS is an unnecessary technology in the power sector.
Recent evidence has come to light that the longest running CCS plant in the world, the Boundary Dam coal power and CCS plant in Canada, was capturing at a rate of 44% in 2022 compared to projected rates of 90% due to a series of breakdowns. The project cost $1.5 billion Canadian dollars, relies on coal and uses the carbon captured to extract more oil.
Recommended for you

'Electrifying profits' from SSE Thermal as hunt continues for CCS