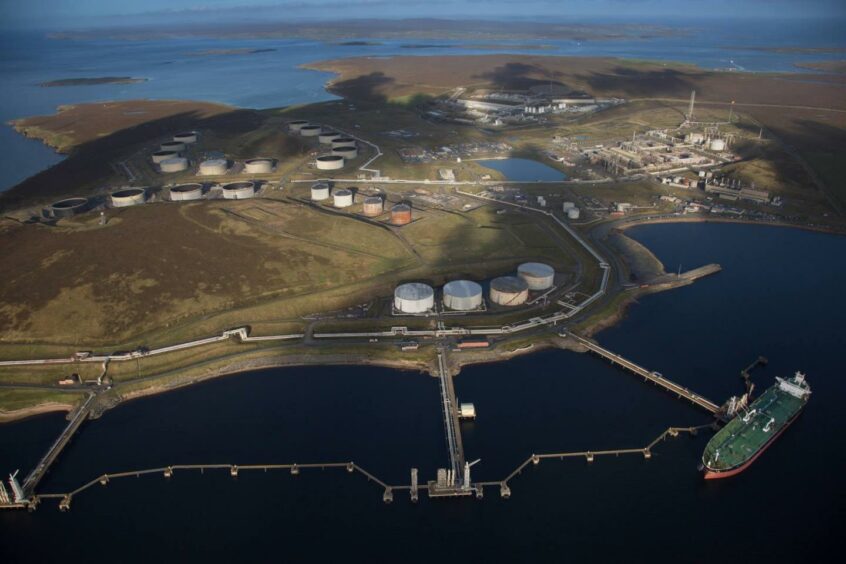 Energy Voice offers a rundown of the North Sea operators who have successfully bagged permits under the UK's first ever carbon storage licensing round.
In September the NSTA confirmed a total of 14 companies had secured 21 licences as part of the UK's first-ever CCS licensing round – a key step towards meeting targets to store up to 30 milion tonnes of CO2 by 2030.
Thirteen areas were offered off the coast of Aberdeen, Teesside, Liverpool and Lincolnshire in the southern North Sea, central North Sea, northern North Sea, and East Irish Sea as part of the process, which kicked off last summer.
Major North Sea names dominate the list of recipients, with successes for the likes of EnQuest, Neptune Energy, Shell, BP and Harbour Energy.
View the full list and a breakdown of projects below.
Neptune Energy
Neptune Energy confirmed over summer that all three of its licence applications were successful.
These include rights to operate SNS Area 1 BC05 and SNS Area 7 Caister Bunter, as well as another, Area 5 Bunter BC13, in which it is partnered with a former unit of Esso E&P (now ExxonMobil).
"We look forward to engaging with the NSTA over the coming weeks as we consider opportunities to progress the development of integrated energy hubs on the UKCS, comprising CCS and powered by renewable electricity," a spokesperson said.
"This is a key component of Neptune's strategy to store more carbon than is emitted from our operations and the use of our sold products by 2030."
The company is already involved in a string of CCS developments across Europe, including at its L10-A, L10-B and L10-E areas off the Netherlands and via the NoordKaap joint venture.
A further licence application has been lodged in Norway as part of a consortium with Sval and Storegga.
Acorn: Storegga, Shell & Harbour
Initially planned to store carbon in the former Goldeneye gas field operated by Shell, the development now includes two new CO2 stores: Acorn East and East Mey.
For Acorn, it means the system's capacity will ramp up to store a huge around 240 million tonnes of CO2 in total.
Major expansion for Acorn CCS in Aberdeenshire with new carbon storage licences
Based at St Fergus near Peterhead, the Acorn project will see industrial emissions from the central belt to the north-east captured and stored in depleted oil and gas reservoirs offshore.
It is a lynchpin in the Scottish Cluster – a consortium of major industrial groups who require CCS capacity and hydrogen supplies to help them reach net zero by 2045.
EnQuest
EnQuest (LON:ENQ) confirmed it had successfully secured four licences, within application areas known as Northern North Sea 1 and Northern North Sea 2.
These are around 100 miles northeast of Shetland and the EnQuest-operated Magnus and Thistle fields.
In addition, two licences were secured at Tern and Eider.
It described the sites as "large, well characterised deep storage formations" connected by "significant existing infrastructure" to the Sullom Voe Terminal (SVT) in Shetland.
The firm plans to ship CO2 to the terminal in liquid form and then utilise the existing jetties at the terminal before being transported via the existing East of Shetland pipeline for injection and permanent storage offshore.
CFO Salman Malik said the scheme would initially be capable of storing 10 million tonnes of CO2 per year, but that the company is optimistic that geological formations in the area "will ultimately be capable of permanently storing more than one billion tonnes of CO2."
EnQuest CEO Amjad Bseisu said: "Our initiative presents a significant opportunity to transition oil and gas skillsets, leveraging EnQuest's core capabilities and assets to deliver a just transition for the sector including new economic opportunities backed by education and skills training.
"As we build a low-carbon, sustainable economy essential for the well-being of future generations. EnQuest's carbon storage proposition provides a vital service for areas where liquid CO2 is the solution, helping EnQuest go beyond zero in terms of its carbon footprint and helping the UK and Scotland achieve their national net zero targets.  EnQuest also remains committed to reducing its own carbon footprint."
Eni
Eni was awarded a licence for Area 4 covering Hewett, the depleted gas field located around 12miles off Bacton, in the Southern North Sea.
The Italian energy group said the licence offered storage capacity of around 300 million tons, the possibility to reuse part associated infrastructure, and proximity to the Bacton industrial cluster.
Bacton Thames Net Zero has been tipped to help decarbonise a raft of sectors in the South East, including automotive, ceramics, food, materials, energy and waste disposal.
Eni will lead the initiative and has suggested the project could be up and running as soon as 2027.
Synergia Energy & Wintershall Dea
Synergia (AIM:SYN) – the operator behind the Medway Hub CCS project – confirmed in a market update in May that one of its two CCS applications had been unsuccessful.
On 27 June it announced that its second application, covering the Camelot gas field, had been approved.
This application was made jointly with 50:50 partner Wintershall Dea, with Synergia as operator.
The two applications were set to compliment the plans for Medway on the Isle of Grain, near Rochester in Kent. The scheme involves CO2 extraction from exhaust streams at the Medway, Damhead and Grain power stations.
Liquid CO2 was then set be transported via tanker to the depleted Esmond and Forbes gas fields in the North Sea for permanent storage.
In its June update the group said the award marked "a significant milestone" for its plans at the hub.
The license comes with a work program that includes an appraisal phase of seismic re-processing, technical evaluations and risk assessment, and a contingent FEED study leading to the potential storage license application in 2028 following an FID.
It also includes a contingent appraisal well at Camelot, ahead of plans to begin first CO2 injection in 2032.
Synergia said its share of this initial work phase is subject to funding – as is the FID – which will be made "in due course."
Chief executive officer Roland Wessel added: "The Company has been working closely with Wintershall Dea over the last 12 months to develop the Medway Hub CCS project and prepare the carbon storage license applications.
"Synergia is delighted to have Wintershall Dea as partners in the Medway."
Spirit Energy
Spirit Energy also confirmed it had been granted one licence –  EIS 1 Morecambe Area – a move which it said would support its plans to repurpose the North and South Morecambe gas fields for CCS.
As part of the proposed Morecambe Net Zero Cluster  (MNZ) these sites could store up to a gigatonne of CO2 – the equivalent of three years' worth of current UK CO₂ emissions.
It could initially store above 5 million tonnes per year of CO₂, scaling in time to 25 million tonnes, and will be able to accept CO₂ transported by pipeline, ship and rail.
Spirit CEO Neil McCulloch said: "I am extremely pleased and proud that we have been granted a licence by the NSTA to repurpose the depleted North and South Morecambe gas fields into a world-leading carbon storage hub.
"This is an important step forward in developing our project which will provide an effective way for emitters to tackle their carbon emissions and meet Net Zero targets."
In time Mr McCulloch said he hoped the two gas fields could form part of a "green super-hub" spanning direct air capture, blue and green hydrogen production, renewable power generation, and energy storage.
Harbour Energy & BP: Viking CCS
Harbour, together with partner BP, was awarded two licences located adjacent and to the west of its existing two Viking CCS licences in the Southern North Sea – with early suggesting the additional licences have the potential to increase the total storage capacity of Viking by over 50%.
Viking was selected earlier this year as part for the UK government's £1 billion Track 2 process. It was previously confirmed by geoscience consultant ERCE that Viking is capable of holding up to 300 million tonnes of CO2.
Everything you need to know about the 'transformational' Viking CCS project
CO2 will be sent along a newly constructed pipeline from Immingham to Theddlethorpe, before entering the pre-existing 75-mile LOGGS pipeline to reach the depleted Viking gas fields.
A previously published schedule for Viking suggested the project could store up to 15 million tonnes by 2035, though no indication has been given on short-term storage targets after first injection, aimed for 2027.
BP & Equinor
BP has secured an additional licence at "SNS Area 1 BC42 sub area" along with partner Equinor.
The two already stakes in licences off the coast of Humberside, critical to the Northern Endurance Partnership – a joint venture that supports the East Coast Cluster by developing infrastructure for CO2 transport from Humber and Teesside to offshore storage.
The award means the consortium now hold four carbon storage licenses on behalf of NEP, enabling the development of six CO2 storage sites in the southern North Sea.
These two sites, combined with an existing licence for the Endurance carbon store, have the potential for storing up to 1 billion tonnes of CO2.
The East Coast Cluster plans to capture and store around 23 million tonnes of CO2 by 2035.
Licences have an appraisal term of eight years, allowing the licensees to apply for a storage permit during the appraisal term.
Perenco & Carbon Catalyst
Competition around the Southern North Sea was among the toughest in the round and Perenco came out successful.
The Anglo-French independent announced in May it had received offers alongside partner Carbon Catalyst for carbon storage licences from the NSTA.
In August the pair confirmed their licence award related to the Leman field – an award that would enable them to progress the "Poseidon" CCS project.
Targeting an operational date in 2029, Perenco said existing pipelines at the Bacton Gas Terminal would be used to receive and process CO2 from various onshore sources and send offshore to inject into reservoir rocks for permanent geological storage.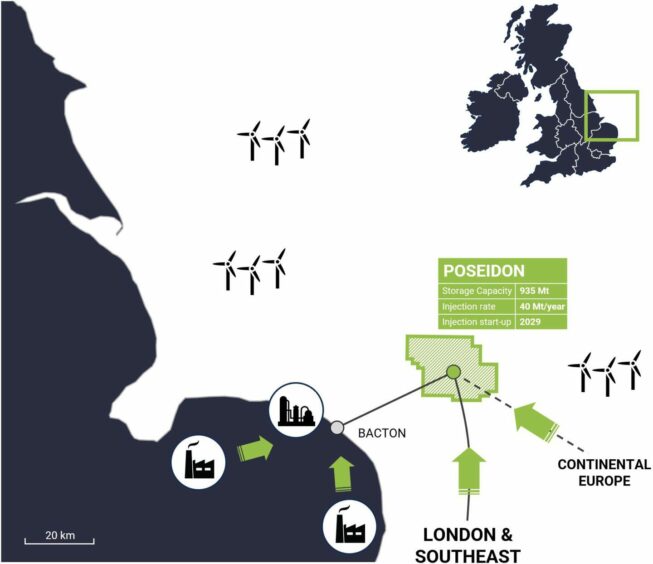 Plans for the Poseidon carbon capture and storage scheme using the offshore Leman field.Initial CO2 injection rates will be roughly 1.5 million tonnes per annum, ramping up to around 10 million tonnes by 2030, and peaking at 40 million tonnes by 2040.
A further two awards cover Area 6B Amethyst and Area 6A West Sole.
Westwood Global Energy Group said that the SNS, which already holds four of the existing carbon storage licences, "is understood to be the most hotly contested area, and had 13 of the 20 licences offered to companies".
Shell & ExxonMobil
Shell secured three storage liences in the southern North Sea, covering SNS Area 2 Sean Fields, SNS Area 2 Indefatigable field and "SNS Area 3". In all three cases it is partnered with Esso, now part of ExxonMobil.
These sites off Norfolk have also been identified as critical assets for the Bacton hub plans.
Recommended for you

UK can do better at CCUS, event hears