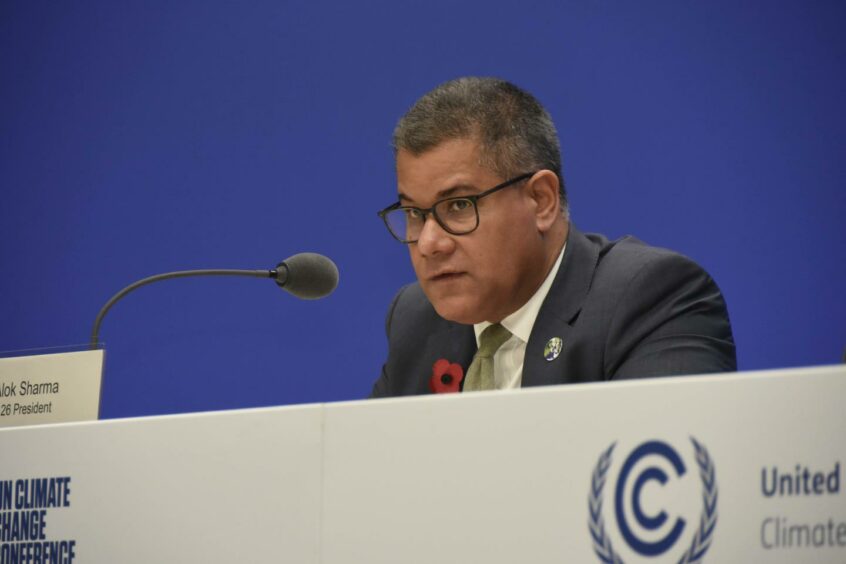 Mr Sharma refused to be drawn on whether oil and gas majors were formally excluded from the UN climate event.
During a press conference to promote the outcomes of Energy Transition Day, COP President Alok Sharma was questioned on whether oil and gas majors were welcome at COP26 or not.
Citing the absence of European industry leaders such as BP's Bernard Looney, TotalEnergies' Patrick Pouyanne, Shell's Ben Van Beurden, or Eni's Claudio Descalzi, a CNBC journalist said several had given the impression that they were not.
Indeed, the Shell CEO had stated as much during a media briefing last week. Asked whether oil, gas and energy companies like Shell were represented accurately or adequately at the conference, Mr van Beurden replied: "We are not represented. We were told that we were not welcome, so we will not be there – that's probably all there is to it."
However, when a similar question was put to Mr Looney this week, he remarked: "I don't remember being specifically told that by anybody."
Mr Sharma, meanwhile, said there were "various mechanisms for people being accredited delegates," and that while everyone was welcome to the conference's Green Zone, "The UK presidency is not controlling who comes to the Blue Zone."
When pressed again whether oil and gas companies were welcome at COP26, Mr Sharma replied: "As I've said, the UK presidency is not controlling who is coming."
It follows reports that fossil fuel companies have been given no formal role in the UN COP26 event.
The fifth day in the UN climate summit has seen a mixture of updated signatories and new declarations that would help end investment in new coal generation projects and limit foreign fossil fuel funding.
However, as of late Thursday, the agreements still exclude some of the biggest funders of such projects and allows for exemptions.
"Together with cash, trees and methane, today's commitments on coal are helping to build the positions to keep 1.5C within reach," Mr Sharma told today's press conference.
Meanwhile, the UK's present position on oil and gas has continued to draw flak from climate activists.
Demonstrators disrupted a speech delivered by Mr Sharma last week at the closing of the UN Climate Change Conference of Youth (COY16), highlighting the contentious Cambo field.
Several youth protestors stood up during the speech to read a prepared statement, alleging that:
BREAKING: Youth Delegates disrupt #Cop26 president Alok Sharma's speech! #StopCambo

Today at the closing ceremony of #COY16, youth delegates called out the hypocrisy of @AlokSharma_RDG, who is still supporting development of new oil fields in the North Sea. @FoEScot @YFoES pic.twitter.com/POEwKzflb3

— StopCambo (@StopCambo) October 30, 2021
"Alok Sharma and the UK government are hypocrites. They are opening the new Cambo oil field, they subsidise billions into fossil fuels yet wont look after the workers who need a just transition."