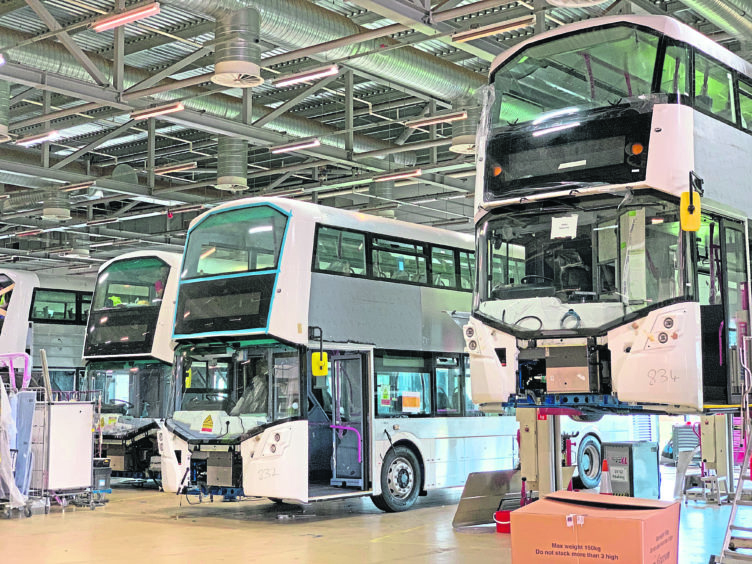 The first of a fleet of 25 new hydrogen buses bound for Aberdeen left its manufacturer's factory in Northern Ireland yesterday.
It will be at the centre of a grand unveiling by Aberdeen City Council, operator First Bus and Wrightbus – the company that built it – in the Granite City today.
The environmentally-friendly double-decker and another 14 like it are making their way to Scotland from Ballymena across the Irish Sea.
Costing £7.5 million in total, the 15 buses are funded by the council, the Scottish Government and the European Union.
Today's debutante will be followed by the rest of the initial 15-strong fleet later this month.
An additional £1m of funding was recently made available through the same partnership, paving the way for another 10 buses next year.
The council hopes they will help to raise demand for hydrogen in the region and allow a commercial supplier to enter the market as part of the delivery of a "hydrogen hub" to help a green economic recovery from coronavirus.
Aberdeen has already been chosen as the home for the "world's first" offshore floating facility to produce green hydrogen.
The pioneering Dolphyn project – driven by global consultancy Environmental Resources Management – will sit nine miles off the coast, allowing the UK to harness the power of the super fuel using floating wind turbines.
Recommended for you

Aberdeen: Net Zero will make or break one of the UK's wealthiest cities