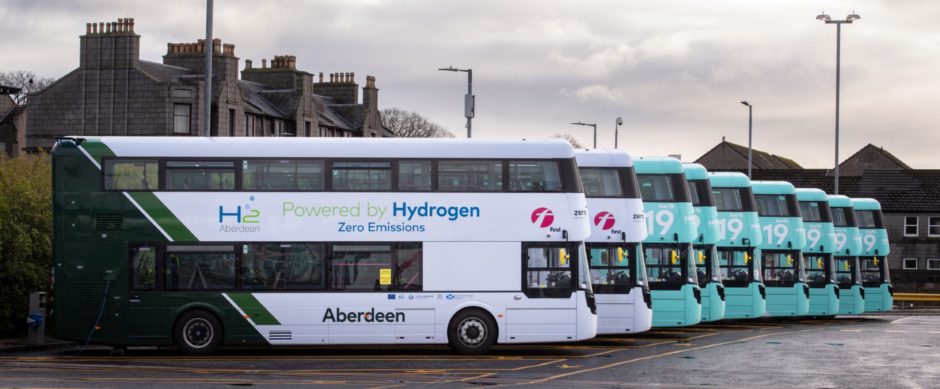 The number of hydrogen projects in development globally is on course to exceed those currently in operation by the end of the year, according to new figures.
International law firm Pillsbury Law has launched a "first-of-its-kind" interactive map that tracks more than 200 green and blue hydrogen projects across the world.
It has found that while 57 projects – 26% of those tracked – are currently operational, 58 others will be in development by the end of 2021.
Construction of a further 92 schemes are scheduled to begin in the next decade.
Among the projects included on the map is Aberdeen City Council's hydrogen bus initiative, and the P&J Live, which is powered using hydrogen fuel cells.
The Acorn carbon capture and storage project is also noted for its efforts to develop blue hydrogen using North Sea natural gas.
So far, global growth of the fuel is being driven by Western Europe and Asia Pacific, with these regions accounting for more than 83% of known low-carbon hydrogen projects.
However, low carbon fuel projects in the US are on the rise.
Green hydrogen projects – which use renewable energy and water to generate the fuel through a process called electrolysis – currently dominate the market, with 52 operational projects globally.
Sheila Harvey, a partner at Pillsbury who also serves as energy industry group leader and co-leads the firm's hydrogen practice, said: "With governments and enterprises worldwide increasingly prioritizing decarbonization goals, we are laser-focused on helping clients capitalize on the enormous opportunities that the ongoing energy transition presents."
Hydrogen practice group co-leader Mona Dajani, who also heads up Pillsbury's energy & infrastructure projects and renewable energy teams, said: "Demand for energy is driving significant innovation in the hydrogen space.
"Green hydrogen projects, which combine renewable power sources with hydrogen production, are unlocking new possibilities for regions previously constrained by weak grid connections and transmission bottlenecks and marking a crucial step in the development of the green hydrogen business case."
Meanwhile, a separate study carried out by consultancy firm Delta-EE has found that Europe's green hydrogen sector is set to boom in the coming years.
According to in-depth research into the hydrogen electrolyser market, there will be 2.7 gigawatts (GW) of operational capacity by 2025, a near 50-fold increase on capacity built over the last ten years.
However, Delta-EE has warned time is running out to establish the many projects on the 100s of megawatts scale needed to hit the EU's target of 6 GW by 2024.
The research is the first produced by Delta-EE's new Global Hydrogen Intelligence Service, created to provide data, analysis, insights and realism on how the new global clean hydrogen sector is developing.
Dr. Robert Bloom, product manager at the consultancy, said: "There are two sides to this story. On the one hand, this is incredibly rapid growth of a key technology for net-zero targets; on the other, it's still well short of the tremendously ambitious national and EU targets that have been set.
"We should remember though, that this is an embryonic market. The current project pipeline is driven almost entirely by EU or national funding with project stakeholders targeting use-sectors where state aid is strongest.
"With the huge amounts of capital made available through various national hydrogen strategies, the EU green deal and IPCEI[1] Hydrogen, we expect to see many more projects added to the pipeline."
Recommended for you

RWE lines up Namibian ammonia for Brunsbüttel supplies