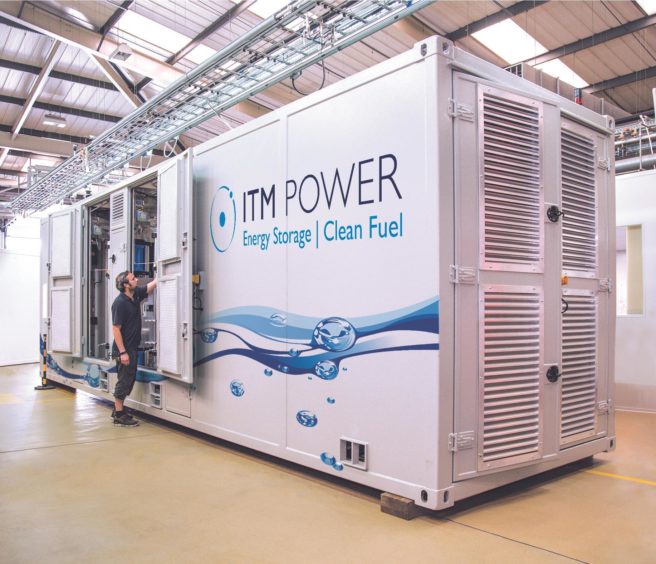 A major UK manufacturer of electrolysers for use in the production of green hydrogen has amassed an order backlog of £154 million.
In a trading update published on Thursday, ITM Power revealed the 194% increase based on last year's figures.
It also confirmed it has a tender pipeline of £607m, up 131% on 2020, and work in progress totalling £35.4m, a rise of 62%.
Analysts have said the figures represent an "acceleration of interest" in industrial decarbonisation and renewable energy, brought about by Covid-19.
Graham Cooley, ITM Power's chief executive, said "traction in the electrolyser industry" has been ever more rapid than the firm had envisaged.
He added: "At the same time, we moved into a gigawatt factory in January, which positions us strongly to meet rapidly growing global demand reflected in a contracts backlog and tender opportunity pipeline materially ahead of our original expectations.
"We are very much looking forward to welcoming customers and investors to a very busy Bessemer Park as soon as we are able."
ITM Power's new contract awards include a 24 megawatt (MW) sale to Linde Gas in Germany, as well as aggregate sales of 10MW across Germany, Austria, Japan, Tasmania and France.
By the end of April 2022, the firm, which is based in Sheffield, expects to have produced 50MW of electrolysers.
Of this, 33MW are already contracted in the backlog, with the balance of 17MW in advanced stages of contract negotiation.
ITM Power hasn't escaped the impact of the pandemic though, with expected total revenue expected to drop from £5.4m last year to £4m.
Commenting on the trading update, Neil Shah, director of research at Edison Group, said: "COVID-19 has amplified the existing global focus upon industrial decarbonisation and renewable energy production, and this acceleration of interest has driven a strong pipeline for ITM Power. The contracts backlog has seen a year-on-year increase of 194% to reach £154million, whilst the tender pipeline of £607million, up 131%, represents a value to the company of £364.2million.
"Despite this, ITM Power was not untouched by the pandemic, with unaudited expected total revenue of £4million down from 2020 levels of £5.4million. However, the company stated that EDITDA and EBIT losses for the year were largely in line with expectations. The strength of the pipeline will likely offset losses in the long-term, with the company expecting to produce 50MW of electrolysers in the upcoming financial year, 33MW of which are already contracted.  The company is well capitalised with a cash position of £176m.
"The increasing global recognition of the potential for hydrogen to support green power should bring confidence to both ITM Power and their investors. The company has noted the explicit statement of electrolyser targets from eight governments, and recent reports on global energy outlooks have recognised the necessity of rapid development in the sector."