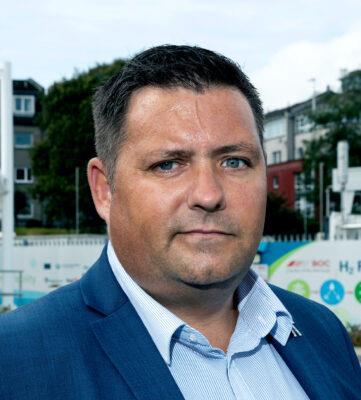 ScottishPower has strengthened its hydrogen division with the appointment of an industry expert, who had a hand in developing Aberdeen's hydrogen bus network.
Mark Griffin joins the Glasgow-headquartered energy company from BOC, the largest provider of industrial, medical and special gases in the UK and Ireland.
He spent almost two decades years working at BOC, which is part of Linde Group, half of which were focussed exclusively on hydrogen.
Barry Carruthers, hydrogen director at ScottishPower, said: "We're so pleased to welcome Mark to our growing hydrogen team. The knowledge and expertise he brings will help us continue our work to deliver green hydrogen solutions across the country."
From 2017, Mr Griffin worked as market development manager in clean fuels.
During that time, he oversaw multiple for green hydrogen projects, including the hydrogen filling station at Honda in Swindon and the multi-vehicle bus terminal in Aberdeen.
Mr Griffin, who starts his new position today, said he has seen a "significant shift" in the prevalence of the zero emissions fuel in recent times.
He added: "Ten years ago hydrogen technology and its applications were really on the periphery. Now the knowledge and understanding of green hydrogen has increased ten-fold and I have no doubt it is set to continue to exponentially grow."
Mr Griffin joins ScottishPower at a crucial time, as the company begins to look ahead to the landmark Cop26 climate conference in Glasgow, for which it is a principal partner.
With the world's eye due to be fixed on Scotland for the 12-day summit, it provides a perfect opportunity for ScottishPower to showcase its latest initiative.
Through its Green Hydrogen for Glasgow project, ScottishPower is planning to install the UK's largest electrolyser installed at Whitelee Wind Farm – the UK's biggest onshore development.
The site and aims to provide green hydrogen to the commercial market by 2023.
Mr Griffin added: "It's a very exciting time to join ScottishPower, COP26 means all eyes will be on Glasgow and the wider UK, looking at what we're doing to reach our own climate targets and accelerate climate action.
"ScottishPower understands the need for green hydrogen, offering the zero-carbon energy solution where electrification can't or won't reach. I'm looking forward to helping ScottishPower continue to grow its green hydrogen business over the coming years.
"There's still much more work to be done to help achieve the targets set out by the UK and Scottish Governments for hydrogen and I am confident they can be achieved with the right support mechanisms and incentives for early adopters."
ScottishPower's green hydrogen division was officially launched in December.
Along with the Green Hydrogen for Glasgow project, the energy provider is working with Global Energy Group's Port of Nigg site to investigate the potential of using green hydrogen to power operations at the Highland facility.
It is also part of the North of Scotland Hydrogen Programme at the Port of Cromarty Firth.
Recommended for you

H2 Green appointment key for hydrogen projects in Inverness and beyond