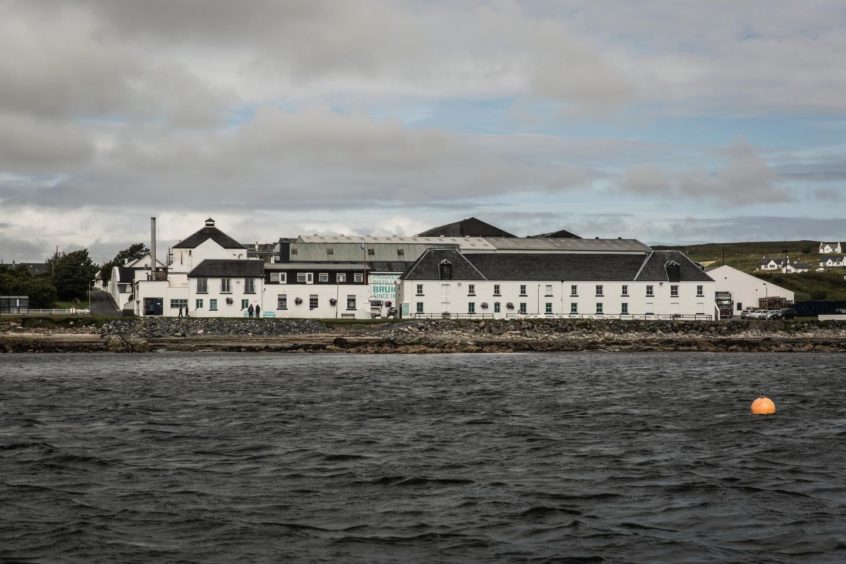 The whisky industry has been quick to recognise the potential for green hydrogen to reduce its carbon footprint.
A raft of projects aimed at using the renewable fuel to heat the stills that produce Scotland's national drink are ongoing around the country.
But while such schemes could be revolutionary in bringing down operational emissions, there are concerns that the industrial benefit for Scotland of implementing the technology will be limited.
Industry veteran Dick Winchester says it's "extremely encouraging" to see more hydrogen projects springing up.
But he lamented the lack of domestic companies capable of producing the technology required, "beyond the systems engineering" piece.
He claims that the "core technology" for such projects will have to be imported.
"That we can't supply the technology to help our most iconic industry decarbonise is something that, as a country, Scotland should get pretty peeved about," he said.
Bruichladdich
Mr Winchester's comments follow last month's allocation of government funding to several whisky decarbonisation schemes.
Green hydrogen company Protium bagged £2.65 million from the Green Distilleries Competition to advance its plans for axing emissions at Bruichladdich Distillery, Islay.
The company is proposing to use a zero-emission hydrogen boiler, manufactured in the UK, to reduce the site's carbon footprint.
In future phases there are plans to install a green hydrogen electrolyser, with Protium identifying an "EU-based company" to supply the technology.
Arbikie
Meanwhile, renewables company Locogen and hydrogen technology specialist Logan Energy were awarded £3m to draw up plans to decarbonise the Arbikie gin and whisky distillery, near Montrose.
Although Logan couldn't give details about the electrolyser supplier, the company said: "We're manufacturer independent and choose the best technology and supplier for the specific job. The hydrogen system will be designed and manufactured in Wallyford with support from our global supply chain."
Glen Garioch
A third project that secured government funding is WhiskyHy, a consortium led by start-up Supercritical, alongside Beam Suntory and the Manufacturing Technology Centre (MTC).
It was awarded £2.94m to aid its plans to carry out an industrial hydrogen trial at the Glen Garioch distillery in Oldmeldrum, Aberdeenshire.
When asked about local content Supercritical said: "The electrolyser advancement and any electrolyser technology used will be built by Supercritical in the UK."
But Mr Winchester says the scheme is "a long way in the future" and urged industry bodies to "develop a 'conventional' electrolyser design so that Scotland can start the process of building a manufacturing supply chain".
Local content drive
Local content in renewables projects, or a lack thereof, has been a long running bugbear for many in Scotland.
Historically it has been particularly acute in offshore wind, though efforts are now ongoing across the board to ensure the benefits of low carbon schemes are enjoyed by domestic companies and workers.
And there are some promising signs that Scotland's much touted green industrial revolution could be beginning to take shape.
Andy McDonald, head of low carbon transition at Scottish Enterprise, said: "It's great to see these projects taking place in Scotland. This hugely important and iconic industry has taken a strong lead in the journey to a net zero future.
"Scottish Enterprise has worked to support many decarbonisation projects across the drinks industry in Scotland, providing sustainability specialist support, links to cluster projects and funding to distilleries on their journey to net zero for example in recent work with The North British Distillery and Nc'Nean.
"It is vital for all sectors to decarbonise and through our Net Zero Framework we continue to support businesses towards a just transition and reduction of carbon emissions. In addition, specifically around the development of green hydrogen as a key part of the energy mix, we are working to ensure the Scottish economy is based around a future where industry is cleaner in both its output and input with green job creation, growth and Scottish supply chain opportunities. The publication during COP26 of the Scottish Government's draft Hydrogen Action Plan, backed by more than £100 million of funding, is a further key step toward this future."
Recommended for you

Should decommissioning still be a priority?