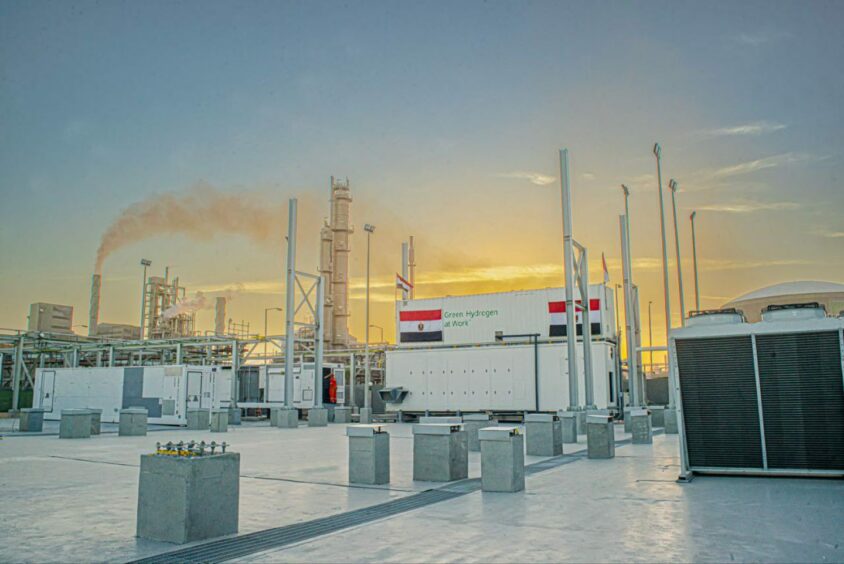 Fertiglobe has begun commissioning the first phase of its Egypt Green hydrogen plant in a high-profile ceremony involving Egyptian President Abdel Fattah El-Sisi.
Fertiglobe, part owned by Abu Dhabi's Adnoc and OCI, could take a final investment decision (FID) on the larger 100 MW project next year, the company said. Alongside Fertiglobe, Norway's Scatec, Orascom Construction and the Sovereign Fund of Egypt are also involved.
This week's announcement demonstrates a proof of concept, said OCI CEO Ahmed El-Hoshy. "It hasn't been done before in the Middle East and Africa to bring 5 MW scale arrays into commissioning."
Next steps
Egypt has an advantage in that it has the natural resources to generate renewable energy, in addition to local demand for hydrogen. This first step involves the largest – and only – PEM electrolyser to be deployed in Africa so far.
"We can use that same infrastructure and feed that into our plant. We don't need to invest in new ammonia, or storage, or loading infrastructure, we're doing it every day," El-Hoshy said.
The next step, of a final investment decision (FID) for the larger project, will need "some things have to fall into place". The project has the hydrogen connections at Ain Sokhna in place to allow the expansion to 100 MW. However, it will need "grant support and some regulatory clarity, around how this product will be treated in Europe".
This larger phase would consist of 100 MW of electrolysers, backed by 260 MW of solar and wind generation. It would produce 15,000 tonnes per year of green hydrogen, which would go into the production of 90,000 tpy of green ammonia.
Producing the green resource will be more expensive than Fertiglobe and OCI's existing output.
Future certainty
El-Hoshy noted the difficulty of securing long-term offtake deals, as others have recently. The OCI CEO expressed some concerns around receiving infrastructure, "where quite a bit of investment needs to come".
He drew a comparison with the LNG market, where financiers and builders require long-term deals before moving ahead with projects.
"Not necessarily a fixed price, but a floor price so you can get debt service coverage and the financing and then the equity can come in." The industry has not yet reached this point, he said.
The US Inflation Reduction Act (IRA) has been a game changer in North America, El-Hoshy said. However, the IRA fails to shed light on the global supply and demand prospect. Indeed, it may even make long-term deals harder to reach, given the likely impact on future production prices.
Capital is ready to deploy, the OCI executive said, but only when some of the challenges have been solved. In addition to the long-term offtake agreements, he cited the challenge of construction.
Just as the entire energy sector is facing inflationary pressures, so too is hydrogen, the CEO confirmed. The period of bid validity for the construction process is "very short", he said, "with much longer lead times and higher pricing overall".
Electrolysers is one area that has seen a number of concerns around availability and pricing. For the next phase of the Egypt Green project, El-Hoshy said the costs would be higher than previously thought.
Advantaged
However, in terms of the next phase, the only investments required are around the electrolysers, rather than the supporting infrastructure.
"We hope that we will be on the earlier side [than some competitors] but I think we have to accept it will be longer lead times and be more costly."
The Egypt Green project provides a shortcut for some of these problems, El-Hoshy said. "It's not so much of a leap of faith for us. We have a big advantage in that we have the infrastructure and demand anyway."
Building projects where there is existing demand, and around existing infrastructure, is a theme that Fertiglobe is also pursuing with plans in the United Arab Emirates, and OCI in Texas.
Recommended for you

Eneco moves closer to Rotterdam green hydrogen electrolyser construction